An artist put dozens of penguins on the Guilford Green before the snow storm hit on Saturday.
Dispatchers said the penguins were put up overnight.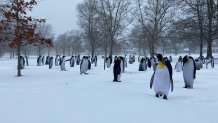 The artist who put them up wishes to remain anonymous and said he put them up to lift people's spirits during tough times.
The artist said he doesn't know how long the penguins will stay on the Guilford Green.