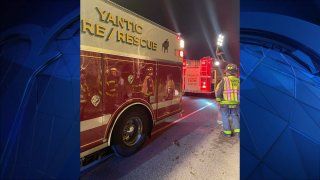 At least one person has died after a crash on Route 32 in Franklin early Sunday morning.
Yantic firefighters said they were called to a fatal crash on Route 32 near Tyler Drive in Franklin around 3 a.m.
Initial reports suggested the crash involved multiple vehicles and there was entrapment and a rollover, according to firefighters.
At one point, Lifestar was called, but was eventually canceled by a medic at the scene, they added.
Authorities have not released details about the crash or about the person or people who died.
The crash remains under investigation.