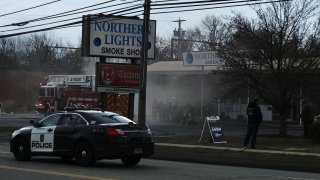 A man was injured after police said he crashed his truck into a store in Groton on Saturday afternoon. Multiple police officers were also taken to the hospital to be treated for smoke inhalation after the crash caused a fire.
Dispatchers received several 911 calls stating a vehicle had driven through the front entrance of the Northern Lights Smoke Shop on Long Hill Road around 12:20 p.m. Additional 911 calls said there was heavy smoke coming from the building after the crash.
When firefighters from Poquonnock Bridge Fire Department arrived to the scene, they found a pick-up truck that had driven through the front entrance almost entirely to the back of the store, police said.
After making contact with the driver of the pick-up truck, police said the driver resisted firefighters who were attempting to extricate him from the vehicle.
Police quickly arrived on scene and entered the store to help firefighters extricate the man, but he began fighting with officers, too, according to authorities.
He was eventually taken to Lawrence + Memorial Hospital to be treated for injuries sustained during the crash.
Investigators said he has not yet been processed and a list of his charges are forthcoming.
Police said they are trying to determine if the crash and the driver's subsequent behavior were caused by a medical issue. They are consulting with the State's Attorney's Office to determine if any charges will be filed.
The driver was later released from the hospital.
During the incident, several Groton police officers suffered from smoke inhalation and authorities said two police officers were transported to Pequot Health Center for additional treatment. They were also released a short time later.
No employees from the business were injured in the incident. The state fire marshal and other fire personnel are working to determine if the crash caused possible structural damage to the building.
Long Hill Road was closed from Poquonnock Road and Drozdyk Drive for hours on Saturday afternoon. It has since reopened to traffic.
Anyone who may have witnessed the crash or anyone with information that may help police in the investigation is asked to contact Groton Police Department at (860) 441-6712.
Correction: (April 11, 2022 12:57 p.m. ET) Police initially said the driver of the vehicle that crashed into the store was arrested. They have since said the individual was not arrested and investigators are working to determine if charges will be filed. The article has been updated to reflect the new information from police.