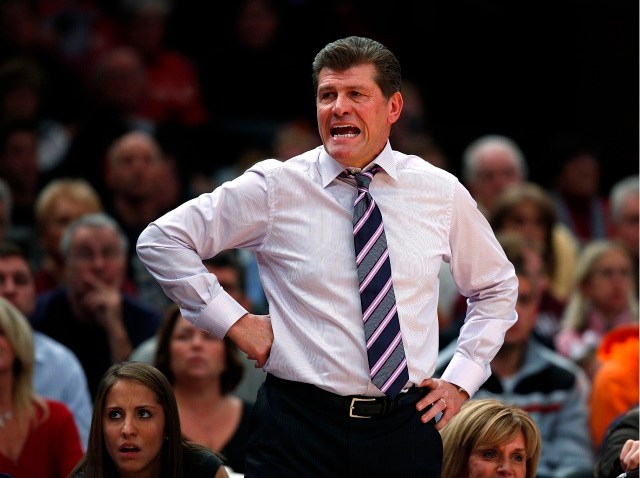 Geno Auriemma has kept relatively quiet during Connecticut's record run.
After leading UConn to its 88th straight win Sunday to equal the men's mark set by UCLA, the Hall of Fame coach finally let loose.
"Because we're breaking a men's record, we've got a lot of people paying attention," Auriemma said at his postgame news conference. "If we were breaking a women's record, everybody would go, 'Aren't those girls nice, let's give them two paragraphs in USA Today, you know, give them one line on the bottom of ESPN and then let's send them back where they belong, in the kitchen."
Tiffany Hayes scored 26 points and Maya Moore added 22 to help the top-ranked Huskies rout No. 11 Ohio State 81-50 in the Maggie Dixon Classic at Madison Square Garden.
Already with no equal in women's basketball, UConn is now tied with late coach John Wooden's Bruins teams that dominated from 1971-74.
The no-nonsense Auriemma had promised that once the run was over, he would finally open up. And Auriemma, known to rub folks the wrong way at times with his sarcasm, has never been afraid to say what's on his mind.
"All the women are happy as hell and they can't wait to come in here and ask questions. All the guys that loved women's basketball are all excited, and all the miserable (people) that follow men's basketball and don't want us to break the record are all here because they are (ticked)," he said.
Auriemma's comments resonated with Stanford coach Tara VanDerveer.
"As a man, that's interesting that he would say that. But, you know, maybe he is on to something," VanDerveer told The Associated Press after her team lost to Tennessee in overtime on Sunday. "It's an incredible accomplishment. Whether it's by a women's team or a men's team -- it doesn't matter what the sport -- it's truly an outstanding accomplishment."
UConn already owned the longest winning streak in NCAA women's basketball history. Next up, the Huskies (10-0) can surpass the UCLA men on Tuesday night at home against No. 15 Florida State.
"I just know there wouldn't be this many people in the room if we were chasing a woman's record," Auriemma said. "The reason everybody is having a heart attack the last four or five days is a bunch of women are threatening to break a men's record, and everybody is all up in arms about it."
Connecticut wrote itself into the record book before a crowd of 15,232 -- the second-largest for a women's game at Madison Square Garden -- and with 40 seconds left, the fans rose and chanted "88! 88!"
UConn has won by an average of nearly 25 points against ranked teams during the streak. Rarely have the Huskies found themselves in trouble in those 30 games. They have trailed for just 134 minutes -- including only 13 in the second half.
"I'm really proud of my players right now," Auriemma said.
AP Sports Writer Beth Rucker in Knoxville, Tenn., and Associated Press Writer Pat Eaton-Robb in New York contributed to this report.

Copyright AP - Associated Press