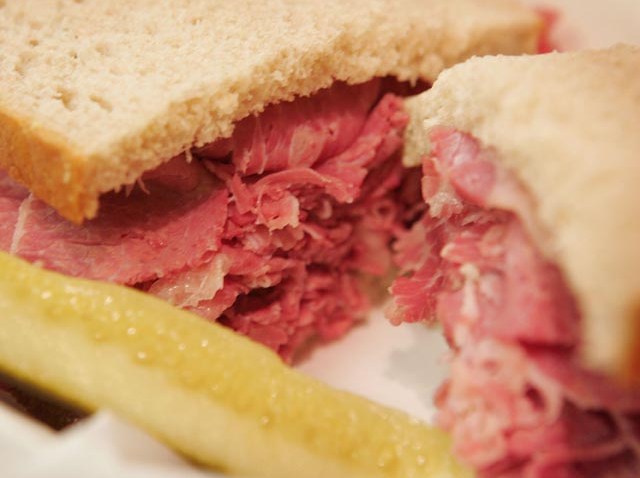 If you've been craving good old-fashioned corned beef on rye -- then look no further than West Hartford.
Reuben's Delicatessen is opening Tuesday on LaSalle Road in West Hartford Center. Owner Brian Hersh tells West Hartford Life that friends had been bugging him for years to open an authentic Jewish deli.
If you're wondering just how authentic the deli is, consider this. Hersh tested out seven different corned beefs, six turkeys and five pastramis before selecting the best. The bagels come fresh from New York City daily, according to West Hartford Life.
"We make a lot of things from scratch," Hersh said. The turkey and corned beef are cooked on the premises, and the challah is baked on site, Hersh tells West Hartford Life.
The deli will serve a lot more than sandwiches. Among the comfort food items: meat loaf, beef brisket, mac and cheese and chicken pot pie. The matzoh ball soup is homemade, using Hersh's wife's grandmother's recipe, according to West Hartford Life.
Hersh tells West Hartford Life he called upon several other local restaurant owners to help him put together the menu. Peter Slattery from New York New York Downtown Delicatessen in Bloomfield and Khen Raviv from Mediza Restaurant are consulting at Reuben's. Among the staff of 25 are a few people from another well-known local deli, Rein's New York Style Deli in Vernon.
Hersh is not new to the restaurant business. He owned Bottega Lounge in New Haven which he sold in 2008. He ran several restaurant and food businesses in Pennsylvania and Boston before coming to Connecticut.
The deli will seat about 60 people with a separate door for take out. Local delivery and catering will also be available.
Reuben's Deli is open daily for breakfast, lunch and dinner. For more information on the menu and hours, click here.