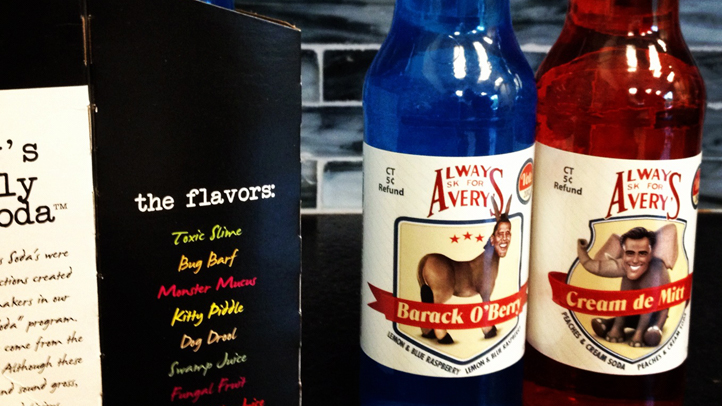 Avery's Soda will launch two new flavors on Friday at the New Britain Museum of American Art in honor of the upcoming presidential election.
Bottles of the new Barack O'Berry soft drink will go head-to-head with red Cream de Mitt flavor in Avery's straw poll — a mock election that breaks complicated politics down to preference by palette.

Barack O'Berry first made it to the shelves in 2008 and has since changed from blue raspberry-pineapple to a "refreshing" blue raspberry-lemon flavor, while Cream de Mitt is noted to have a hint of peach.

Each week, Avery's Soda will update fans on results of the race.
"We will track the popularity of each candidate based on sales of each of the flavors and post the weekly results on our Facebook page," General Manager Rob Metz said. "We encourage folks to vote often for their favorite candidate."
The sodas will sell for $1 each at Avery's shop in New Britain, he said.

Metz noted that the process of selecting the Mitt Romney flavor was especially challenging.

Ultimately, Avery's Soda took to customers to make a decision.
"We had a real challenge coming up with the name for the Republican version of our straw poll soda, so we enlisted the help of our Facebook friends. We had a lot of great suggestions — and a few less tasteful ones, too — but settled on Cream de Mitt. Very tasty!"
There are other fun flavors customers can try, as well.
Aside from the classics and flavors inspired by candidates, you can also enjoy the taste of Bug Barf, Monster Mucus, or even Kitty Piddle.
Through its "Totally Gross Sodas" line, the store provides six particularly quirky and colorful flavors that taste better than they sound.
Whether it's political appeal or adventurous tasting, stop by Avery's Soda on Corbin Avenue in New Britain, Tuesday to Saturday to escape the summer heat. The company also delivers to 16 locations.
A full list of Avery's drinks can be found on their Web site.