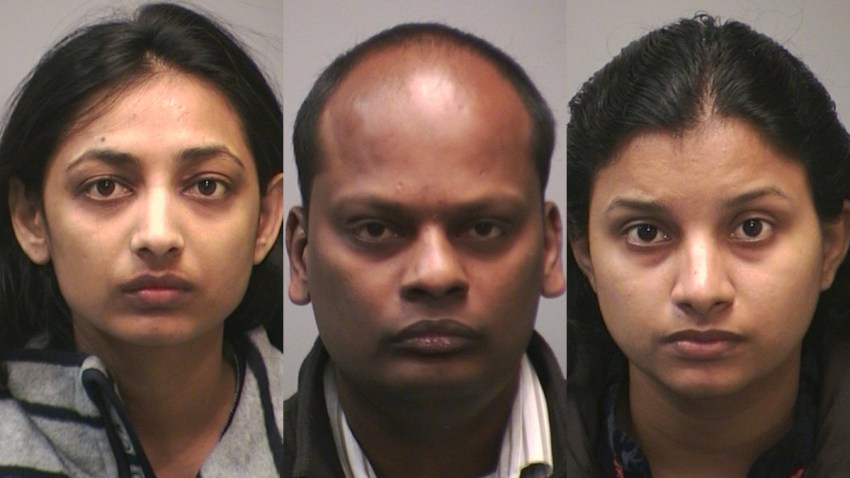 The parents of a 19-month-old Connecticut boy who died while in the care of his 27-year-old baby sitter have been charged with risk of injury to a minor.
The arrest comes days after police arrested the 27-year-old babysitter, Kinjal Patel, and charged her with manslaughter.
Police responded to a risk of injury complaint at the Yale–New Haven Hospital Pediatric Emergency Department at 9:26 p.m. on January 16.
The little boy's skull was severely fractured, police said.
Doctors told police that as the boy, Athiyan Sivakumar, was rushed to surgery his injuries were life-threatening.
The little boy's parents, Thenmozhi Rajendran, 24, and Sivakumar Mani, said their son was having breathing problems and would not open his eyes, police said.
When Rajendran spoke with detectives, she initially said she was a stay-at-home mother and was watching her son alone on Jan. 16 while her husband was at work.

When she heard her son breathing abnormally and he would not open her eyes, she called her husband at work, so he came home and they drove to the hospital, according to court records.

When police spoke an investigator from the state Department of Children and Families the next day, she said she responded to the hospital in December when the hospital reported suspicious injuries to the child. On Dec. 24, the baby was in a Patel's care and suffered cuts to the inside of the mouth and tongue and his chin was bruised, police said.

This information came as the baby's condition worsened. On Jan. 17, he was in critical condition with a skull base fracture and internal brain bleeding, police said. He died two days later, at 1:31 p.m. on Jan. 19, according to police.

An autopsy was performed on Jan. 21 and the medical examiner determined that the baby was a homicide victim. The cause of death was blunt force trauma with multiple sites of impact.

Police again spoke with Rajendran, and she maintained that she was at home with the baby while her husband was at work.

At first, she said her son woke up around 9 a.m. on Jan. 16. She fed him an hour later, her husband came home for lunch from 12:30 p.m. to 1:30 p.m. and she set the baby down for a nap at 2 p.m., according to court documents.

As she cooked in the kitchen, her son's breathing became abnormal, she said. Then she changed her story and said her son was standing on the arm of the couch and fell reaching for the door, police said.

She said she cradled him to sleep, felt a bump on his head and he slept for two hours, then started breathing abnormally.

She didn't know much about calling 911 so she called her husband, police said, and told officers she lied to them because she was scared and doesn't know anything about this in this country.

During a taped statement, Rajendran told police the last time she and her husband allowed Patel to babysit their son was Dec. 24.

On Jan. 22, police spoke with Patel, who said she's only babysat the child on Dec. 24 and he fell off his toy car and injured his lip, according to court documents.

A DCF investigator would later tell police that DCF met with Rajendran and Mani on Dec. 24 about the child's unexplained injuries while under Patel's care. During that meeting, there was an agreement reached where the parents would not send the boy to Patel or any babysitter until DCF could assess the person. .

Mani told police he would try to find a daycare. When DCF checked in with the family a week later, they said they had not brought the baby back to Patel or her boyfriend to watch.

During an interview with police on Jan. 23 Patel admitted to babysitting the little boy four to five times per week since August 2013, including from 1:30 p.m. to around 5:30 p.m. on Jan. 16, according to police.

She said the baby fell asleep as soon as he got to her house and woke up suddenly, shaking, around 5 p.m. and called the father.

Mani told her "don't say anything," Patel said.

She went on to admit to police that she lied about the baby being asleep and claimed that he slipped on the wet kitchen floor and fell backwards.

On Jan. 24, she gave police a statement admitting to causing the child's injuries on Jan. 16, according to police.

She went on to say that the baby's father told her not to tell anyone about her babysitting the child and she did not want him to get in trouble, so she lied to police, according to police.

During interviews with police Patel allegedly told them she became angry with the child while babysitting him on Jan. 16, then forced him to the floor, where he hit his head and started to cry and convulse, according to a news release from police.. The incident happened at Patel's home on Middletown Avenue in New Haven, according to police. She has been charged with manslaughter.
Patel told officers she called the child's father to tell him his child was injured. He came home then took his son to the hospital.
Police said officers responded to the child's home on Weybosset Street and secured it as the potential crime scene.
Patel has been arrested and charged with manslaughter in the first degree and risk of injury to a child.
Rajendran and Mani, 33, were arraigned today and are being held on $25,000 bond. They are due back in court on Feb. 18.