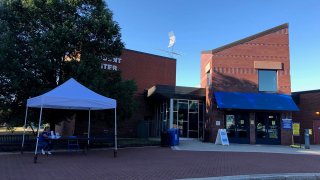 Today is the first day of school for Connecticut State Colleges and Universities and the governor was at Central Connecticut State University on Wednesday morning, where he and with leaders from higher education institutions across the state spoke about precautions taken to bring students back.
"I love … that all of our colleges are coming back, and coming back safely," Gov. Ned Lamont said.
Mark Ojakian, the president of the Connecticut State Colleges and Universities system, said fewer people will be on the campuses and there will be more online and hybrid class offerings.
Everyone will be required to wear a mask and to maintain a social distance, he said.
"Everyone on our campuses must be part of the solution," Ojakian said.
Western Connecticut State University has not reopened because of an uptick in COVID-19 cases in Danbury.
Ojakian spoke to students and said he believes the students will rise to the occasion, prove wrong naysayers who do not think students can be safe wrong and wear masks, socially distance and not gather in groups that exceed limits.
"I think it's up to all of the student to prove everybody wrong," Ojakian said.
UConn president Thomas Katsouleas addressed an issue at his school in which they had to send students home after a party.
He said around a dozen students gathered at that party, since then the largest gathering has been six people. Students want to stay at school and not go home, he said.
Lamont added that the schools are finding new ways to incorporate IT into classes.
Deidre Gifford, the acting commissioner of the Department of Public Health, welcomed back students and said the Department of Public Health has worked with the schools to make recommendations on elements to have a safe reopening, including quarantining students coming from hotspot states, the testing of residential students and developing isolation and quarantining spaces.
During the news conference, she said they are starting to see a pattern of social gatherings, including just a few people who are comfortable together or among family members they do not live with, and the spread of COVID-19.
She urged the wearing of masks, maintaining a social distance and holding gatherings outside if possible.
The governor addressed anxiety about a return to elementary and secondary schools and said from all the public health officials he's talked to, he feels confident about students in kindergarten through eighth grade going to school.
High schools will be much more hybrid because they are not as likely to be in a pod or cohort, Lamont said.