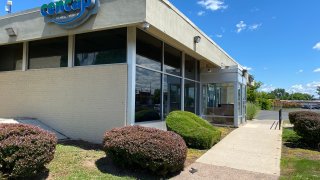 A bank robbery is under investigation in Hartford on Wednesday morning.
Police responded to the Cencap Federal Credit Union at 2775 Main Street just after 8:30 a.m. after employees activated a hold-up alarm and then called 911.
Two men took off with the money in a bank bag that contained a tracking device, according to police.
The tracking device showed the bank bag in the area of Keney Park. Arriving officers found two men looking through what appeared to be the bank bag. The pair ran off into the woods and officers were able to take them into custody a short time later, according to police.
The two men are in their 20s, but police have not yet released their identities.
Officers recovered a gun that was used in the incident, police said.