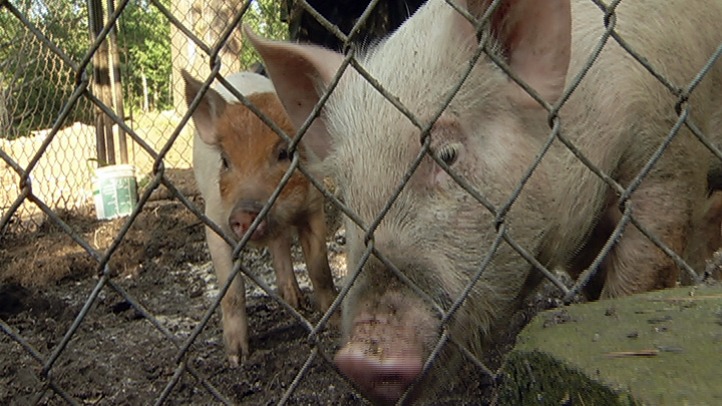 Only Louie and Bob remain in the Iffland's Winchester yard after a black bear ate Chop and Suey for dinner Monday night. They are pigs and state officials warn that the bears could return to the Winsted home if they get hungry.
"The neighbor came running to the back door and said, 'Your pigs are running through my yard.They're loose,'" said Ted Iffland, who owned the pigs and planned to raise them for slaughter.
When Ted and his wife Dawn went to check the backyard pen that housed the pigs, they found one pig dead inside and two missing.
They heard a noise they thought was one of the pigs and spotted a big black bear nearby, eating one of their pigs.
"My wife and I were right back here looking for the little pig and he was about 30 feet right here in the ferns," Ted said, pointing out the spot in their heavily wooded backyard.
The Ifflands called 911 and Winsted and State Police and officials with the Department of Environmental Protection arrived. One of the state troopers fired a shotgun at the bear, but missed and the bear fled, Ted Iffland said.
Since the Ifflands still have two surviving pigs, DEP officials said the bear could come back when it gets hungry.
While bears don't often attack livestock, those that do are likely to do it again. DEP biologists set up a bear trap, hoping to catch the bear before he goes after anything else.
"It could be a dog or the grand kids. We have a lot of little grand kids about this big, you never know," Ted said.
Ted also has his rifle loaded and ready to go too, just in case.
"If he comes back and doesn't head right for the cage, I'll take him down," Ted said.
Sixty eight black bear sightings were reported in Winchester between June 2, 2010 and May 31, 2011. Across the state, there have been 1,785 sightings.