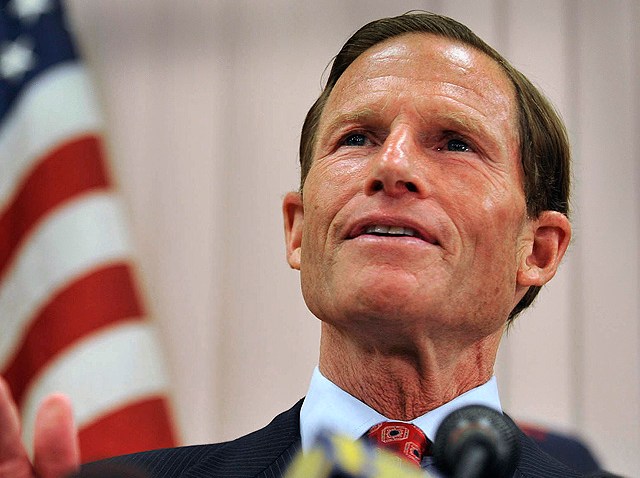 Since Monday night, Attorney General Richard Blumenthal has been at the center of national political news, accused of embellishing his military service record.
On Wednesday evening, Linda McMahon, his Republican opponent, spoke for the first time about the controversy and admitted that her campaign that provided the New York Times with the story about Blumenthal.
"I can tell you we had some research, we shared it, and I we think accomplished the story, " she said.
After the story broke, Rasmussen Reports conducted a telephone survey on Tuesday of "likely voters" in the state and it showed him with a three-point advantage over Linda McMahon – 48 percent to 45 percent.
"A few weeks ago, he was 30 to 35 points ahead, so I'm glad to see that lead reduced," McMahon said.
The speech at the center of the issue was made in March 2008 during a ceremony in Norwalk. A video clip from the speech posted by The New York Times shows Blumenthal saying he "served in Vietnam."
McMahon's campaign also posted another longer version of that speech, which shows Blumenthal saying that he "served in the military, during the Vietnam era."
On Tuesday, Blumenthal, a Democrat, held a news conference and defended himself, saying he misspoke.
"On a few occasions, I have misspoken about my service and I regret that. I take full responsibility, but I will not allow anyone to take a few misplaced words and impugn my record of service," he said. "I may have misspoken. I did misspeak on a few occasions out of hundreds I have attended."
Blumenthal was in the Marine Reserves but was not deployed to Vietnam.
Former U.S. Rep. Christopher Shays, a Republican, spoke with the Times and he said that over time, Blumenthal kept revising how he talked about his military service during the Vietnam War.
In the 1980s, he was humble but them made more sweeping claims, said Shays, who told the Times that Blumenthal is a "person of high integrity" and he regretted not speaking up earlier.
"I think that it was a way that he quickly bonded with people I am sure he admired and respected," Shays said. McMahon disagreed saying, "I think you have to tell the truth, the simple truth. Just tell the truth, it's easy to tell the simple truth."

Copyright AP - Associated Press