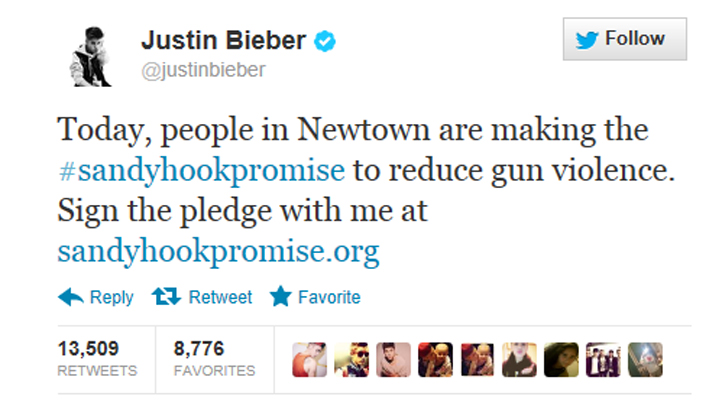 Celebrities are joining Newtown residents in making the "Sandy Hook Promise" to do all they can to support "common-sense solutions" to make communities and this country safer.
"Today, people in Newtown are making the #sandyhookpromise to reduce gun violence. Sign the pledge with me at http://www.sandyhookpromise.org" Justin Bieber Tweeted on Friday afternoon.
More than 100,000 people have made the Sandy Hook Promise, including Kim Kardashian, who took the pledge and posted on her Facebook page on Tuesday.
Newtown residents announced the anti-violence initiative on Monday, exactly one month after Adam Lanza went on a rampage inside Sandy Hook Elementary School and killed 20 first graders and six staff members before killing himself.
Families of the victims spoke at the news conference and about how they want their community to be thought of not as a place grieving from loss, but as the center of a national movement for change.
Newtown High School students made the Sandy Hook Promise and recorded a video of it, which you can watch here.