Signals are growing for an impressive surge of warmth next week. It won't be record breaking but it certainly will be a welcome change after an unusually cold March across Connecticut.
The key this time of year is the wind direction. A wind out of the south, east, north - or any combination of the 3 isn't going to get warmth into southern New England. Water temperatures in the 40s off of Cape Cod and Long Island make it almost impossible to warm when the air is blowing off the Atlantic. The key is to get a westerly wind off the land and that is what we're expecting early next week.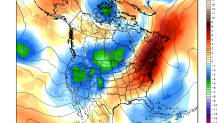 Right now, we have 70F forecast for Tuesday but that number may need to be increased. In fact some of the raw model numbers we're looking at have temperatures approaching 80 degrees by Tuesday!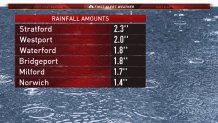 Looking back a bit, this morning's rain was pretty impressive as we expected. Most areas picked up about an inch of rain in a short period of time while some spots in southwestern Connecticut managed over 2" of rain resulting in some minor flooding.