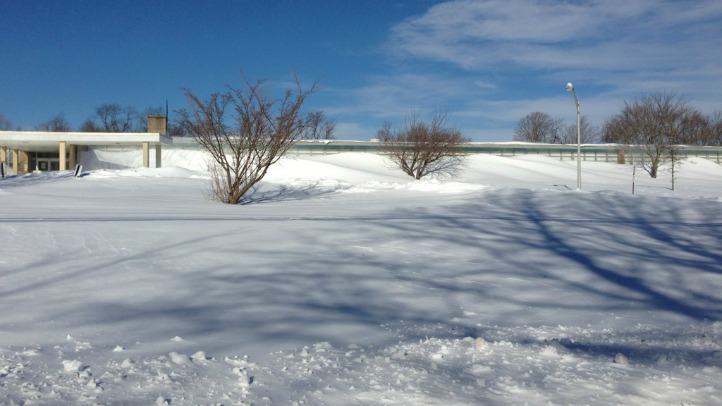 A fierce winter storm dumped as much as 3 feet of snow on Connecticut, stranding dozens of motorists and prompting Gov. Dannel Malloy to order all of the state's roads closed.
The massive blizzard, which arrived Friday and battered the region through the night, is being blamed on at least five deaths.
An 80-year-old woman was hit by a car on Friday night in Prospect while operating a snowblower, Malloy said. Danbury Mayor Mark Boughton said a man in his town died after slipping and falling while trying to clear his porch.
A 53-year-old man was found dead outside his Bridgeport home on Saturday morning.
A 49-year-old man on Darrin Drive in Shelton died from unknown health causes, police said. His truck, which had a plow on it, was stuck and police said he might have tried to shovel out the car.
Mayor Mark Boughton said that there is a storm-related fatality in Danbury. A man slipped on his deck and was found this morning, the mayor said.
Staggering snow totals were reported across the state. An unofficial report of 40 inches in Hamden was the highest amount in Connecticut.
Malloy said state police have responded to more than 1,600 calls over 24 hours.
The governor asked President Obama for an emergency declaration on Saturday. A presidential emergency delcaration would allow the state to receive direct federal assistance, which could include snow removal equipment, power generation and manpower, according to Malloy's office. It would not mean the state would receive federal disaster funding.
The travel ban was lifted at 4 p.m. Saturday, but Malloy urged drivers to stay off the roads.
High winds are causing hazardous drifts, and stalled or stuck cars are making it harder for plow crews to do their jobs, officials said.
"Right now our main priority is to clear roads," Malloy said at news briefing. "We are asking people of Connecticut to cooperate. This will allow us to clear the roads much more rapidly and get back to normal as quickly as possible."
The cleanup will probably last days, he said.
About 37,000 Connecticut Light & Power customers were without power on Saturday afternoon, most of them in the southeastern part of the state.
The government is setting up warming centers for people without heat in those areas.
"As winds subside and roads get cleared, restoration work will begin in earnest," Malloy said.
About 270 National Guard personnel have been called into duty to help state and local agencies with the storm response, with more on the way, Malloy said. He added that he has allowed local 911 dispatching agencies to put off ambulance response to non-essential calls in areas that cannot be reached.
Milford bore the brunt of the snowfall, recording 38 inches. Oxford and Hamden reported 36 inches. New Haven got more than 34 inches. Hartford received 22, the second most in recorded history for that city. The record is 24 inches on Jan. 12, 2011.
Light flurries continued to drop Saturday morning. Wind gusts were still strong as well. Temperatures will remain in the 20s today, and could drop below zero in inland areas of the state overnight. Sun and temperatures in the 30s are expected Sunday.
The state Department of Emergency Services and Public Protection warned residents never to use portable generators indoors, in basements, garages or close to a home. The exhaust from generators contains high levels of carbon monoxide greater than that of multiple cars running in a garage, which can quickly incapacitate and kill.
Malloy also urged residents to clear snow from houses' side vents to prevent deadly buildups of carbon monoxide.
Transit companies, including Metro-North, Amtrak, Peter Ban and Greyhound, have already altered schedules because of the storm. CT Transit halted operations at 4 p.m. Friday.
The storm, packing hurricane-force wind gusts and blizzard conditions, left much of the Northeast under a thick blanket of powder -- and the myriad problems that come with such downfalls. More than 650,000 homes and businesses in the densely populated region lost power.
Boston received more than 21 inches, the sixth most all time. Portland, Maine's 29.2 inches set a record. New York received just under a foot of snow.
In addition to the death of the woman in Prospect, at least five other deaths were attributed to the storm, including three in Canada, the Associated Press reported, citing police. That included an 80-year-old woman in southern Ontario who collapsed while shoveling her driveway and a 23-year-old New York man who drove off the edge of a road he was plowing in his farm tractor.