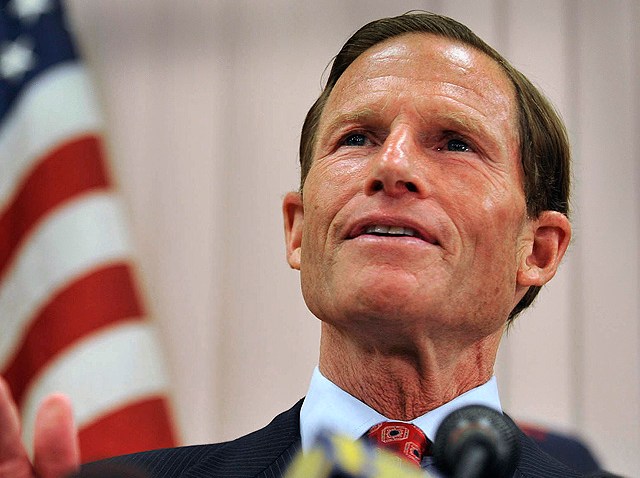 In the last week, Attorney General Richard Blumenthal was the butt of a vice presidential joke and now it looks like he's the inspiration for legislation to make it illegal to make inaccurate or misleading statements about your military record.
Sen. Orrin Hatch, a Republican from Utah, wants to amend the Stolen Valor Act-- Defense Supplemental Bill -- and add the threat of six months in prison and fines to anyone making false statements about participating in U.S. combat operations.
People who lie about their military service often do so for personal benefit– "to obtain honorariums, employment and elected office," among other things, he said in remarks entered into the Congressional Record.
"It is a crime to dishonor the sacrifice of so many by falsely representing combat service for the purposes of self-promotion or benefit," Hatch concluded. "My amendment would deter those who would falsely prop themselves up in order to appear worthy of the award and title of 'combat veteran.'
Blumenthal has been under fire for statements he made about his military service during the Vietnam War. Hatch's attempt to link the Blumenthal blunder with the Stolen Valor Act is getting negative feedback from the very people who helped make the legislation happen.
"Senator Hatch's knee-jerk response to the Blumenthal case, and many more far eggregious Stolen Valor cases, is a wrong direction that is ill informed at best and hypocritical at worst," Doug and Pam Sterner, of Virginia, said in an e-mail.
The couple said in an e-mail to NBC Connecticut that they have attempted to contact Hatch about their concerns over the amendment but have been unable to reach him.
Blumenthal has said he "misspoke" and apologized.
"I have made mistakes and I am sorry. I truly regret offending anyone,'' Blumenthal wrote in the e-mail apology he sent to the Hartford Courant. "I will always champion the cause of Connecticut's and our nation's veterans."
Doug and Pam Sterner, of Virginia, run Home of Heroes, said they
In Connecticut, the controversy seemingly has not done much political damage. Blumenthal secured his party's nomination and, in a Quinnipiac poll released on Thursday, he maintains a lead over opponent, former wrestling executive Linda McMahon, 56 percent to 31 percent.
"It looks like Connecticut voters forgive Attorney General Richard Blumenthal, or feel that there is nothing to forgive in the Vietnam service flap. While he has taken a hit with voters, his poll numbers were so high to begin with that he still maintains a commanding lead over Linda McMahon," said Quinnipiac University Poll Director Douglas Schwartz.
A message left with Hatch's office was not immediately returned.