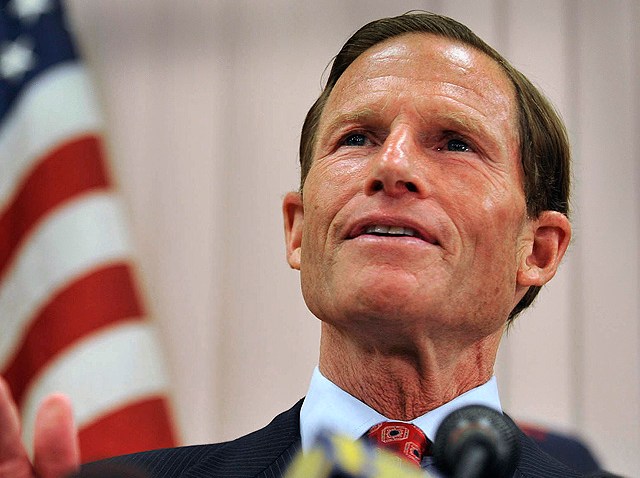 While Richard Blumenthal's U.S. Senate campaign is trying to focus on his record as attorney general, the GOP wants to bring the focus back to his misspeaks about his military service.
On Tuesday, Blumenthal released three TV ads for his Senate campaign featuring Connecticut residents who praise his work as attorney general.
In response, the National Republican Senatorial Committee released a statement to the political Web site, The Hill, saying:
"It's notable that when it came time to film his campaign commercials, Dick Blumenthal was apparently able to recall with exact precision specific instances, out of tens of thousands of cases, where the attorney general's office aided a handful of Connecticut residents, Yet when it came to his repeated claims that he served in Vietnam and the numerous news articles that subsequently reported those false claims, Dick Blumenthal claimed that his memory suddenly escaped him."
Following that article in the New York Times article about Blumenthal's military service claims, he said he regretted that he misspoke and took responsibility.
In the weeks since , polls have shown that he remains a front runner in the race.
A recent Cook Political Report says the race is leaning toward the Democrats.
A recent poll from Quinnipiac University found that 53 percent of Connecticut voters were satisfied with Blumenthal's explanation of the matter. The poll also showed Blumenthal maintaining a lead over his main Republican opponent, Linda McMahon.
That lead, though, did get smaller. The poll went from 61 percent Blumenthal, 28 percent McMahon on March 17, to 56 percent Blumenthal, 31 percent McMahon.
A spokesman for McMahon told The Hill that "(Blumenthal's) numbers have taken a serious hit - by every measure they are moving in the wrong direction, and he's trying to hold on."