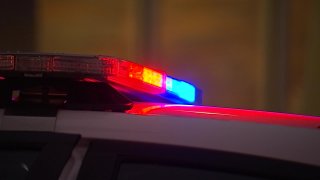 State police are trying to identify the person who was inside of a vehicle in the median of Interstate 95 north in West Haven when another vehicle struck it and caused it to catch on fire on Saturday night. The person inside of the vehicle was later pronounced dead.
Investigators said a 1970 Plymouth Duster was stationary in the median of I-95 north before exit 42 when a Honda Accord LX moved into the median and rear-ended it around 10:45 p.m.
The crash caused the Plymouth Duster to become engulfed in flames, authorities added.
According to state police, the unidentified front passenger of the Plymouth Duster was pronounced dead at the scene. Investigators are working to identify the person.
The drivers of both vehicles were transported to the hospital for medical treatment.
The crash remains under investigation.
Any witnesses or anyone with information about the crash is asked to contact Trooper Khariton #1433 from Troop G at (203) 696-2500.