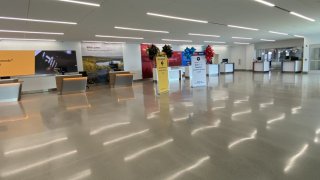 Bradley International Airport held a ribbon-cutting ceremony for its new Ground Transportation Center Thursday.
The new $210 million facility will add parking, streamline rental car services and improve public transit access, according to the Connecticut Airport Authority.
"The Ground Transportation Center will dramatically improve the passenger experience at Bradley International Airport for both arrivals and departures," said Gov. Lamont said.
Nine rental car companies will be located in the facility, including vehicle pick-up and drop-off. Passengers will no longer have to take a shuttle to get to their rental cars, according to the CAA.
"In addition to transforming the airport footprint, the facility will streamline operations, save time for passengers, improve access to public transportation, while also eliminating traffic congestion and easing access to our arrivals and departures levels," said Kevin Dillon, Connecticut Airport Authority Executive Director.
It is scheduled to open to the public in mid-July.