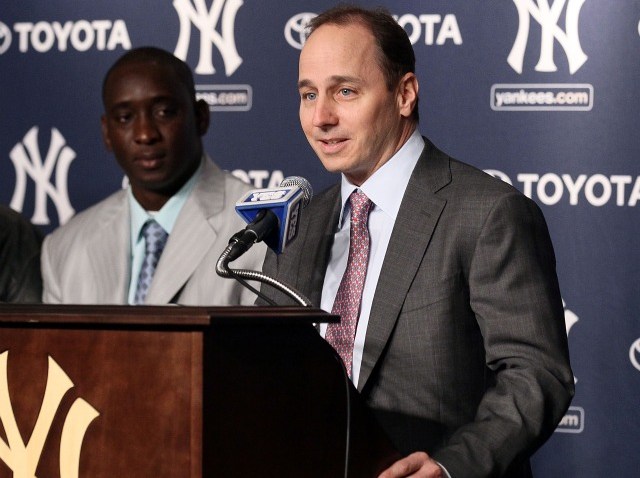 Brian Cashman knows how to fill a news void.
The Jets are finished and Carmelo Anthony is in a holding pattern, which means that the world of New York sports is going to be hard up for stories in the coming days and weeks. Enter Cashman.
He spent Tuesday morning at a breakfast event hosted by Mike Francesa and did a lot more than serve up platitudes about the season to come. Just about everything out of his mouth would be fodder for the back page, and that means editors and producers are going to have a tough time prioritizing what stories to push first.
Thankfully, Amanda Rykoff of ESPNW.com was at the event and wearing out her Twitter account to bring us all the news as it happened. That means we can decide which of the following tidbits is the one that matters the most.
Francesa greeted Cashman and asked how he was doing; Cashman responded by saying "I'd be better if I could get a starter."
He followed that up by saying the Yankees were a starter away from being a real contender for the World Series.
His best case rotation is Andy Pettitte returning and Ivan Nova as the fifth starter, but he also said that A.J. Burnett has a problem that he's working hard to fix. Cashman played down the idea that Pettitte would pitch for a half-season.
Cashman said that he doesn't think Derek Jeter will be at shortstop for the next four years and that he would move to the outfield.
The Red Sox are better than the Yankees right now, but the Yankees have a better bullpen.
There's no chance of Joba Chamberlain rejoining the rotation because he has never been the same pitcher since he got injured in Texas during the 2008 season.
Mariano Rivera is the best Yankee he's ever seen.
Cashman likes his eggs over easy but mostly sticks to oatmeal and bananas these days.
Talk about your breakfast bombshells! Just kidding on that last one, but all the rest are straight from the horse's mouth.
Given the Jeter fetish shared by just about everyone in this town, you can bet Cashman's comment about his moving will be the one picked up and played up the biggest. Someone will probably fold the Rivera business in alongside this year's contract squabbles to make it seem like there's a problem between the general manager and the shortstop. That will certainly play, but it seems less important than what he said about Joba.
Plenty of Yankee fans have insisted that Chamberlain's 2008 shoulder injury changed the pitcher that he was beyond any public admission from player or team. Because of that insistence that he was exactly the same pitcher as he ever was, Chamberlain was accused of all manners of shortcomings over the last two years and the Yankees were pilloried for ruining a brilliant young arm by switching him from the bullpen to the rotation.
Now that they've finally come clean, it would be interesting to hear why Cashman has hung on to Chamberlain instead of trying to deal him. It may be that he'd fail a physical with another club, although the fact that he's been well enough to pitch in both 2009 and 2010 works against that theory. It would also be enlightening to hear why Cashman chose to go public with this information now because it effectively destroys any trade value that Chamberlain might have going forward.
We'll probably get the answers to those questions as Cashman's candid breakfast just vaulted the clock forward to baseball season.
Josh Alper is a writer living in New York City and is a contributor to FanHouse.com and ProFootballTalk.com in addition to his duties for NBCNewYork.com. You can follow him on Twitter.
Copyright FREEL - NBC Local Media