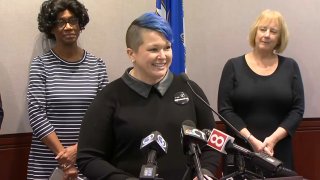 A teacher in Bristol is a finalist being considered for the 2023 National Teacher of the Year.
Carolyn Kielma, a science teacher from Bristol Eastern High School, is the 2023 Connecticut Teacher of the Year, and the Council of Chief State School Officers has named her one of five finalists for the nation's highest recognition to honor teachers.
"Wow, what a lucky girl I am," Kielma said during a news conference on Wednesday. "All of these wonderful things are happening for my students, my colleagues, my city of Bristol, which has been through a lot in the last few years, and of course my home state, Connecticut."
"Teaching is a profession I was born to do," Kielma said. "I get to help make better, smarter, kinder humans. I get to share a small part of their lives. I get to celebrate their triumphs and teach them to focus and buckle down when the expectations are high. I get to help them understand and value their worth while they navigate their own unique journeys to adulthood. I get to laugh with them every day and sometimes I get to comfort them when they are all at their lowest points and I get to remind them that tough times do not last, tough people do. --- Oh yeah, and I get to teach them science."
The Council of Chief State School Officers website says, Kielma "provides a trusted adult ear for students who need help, and who creates an inclusive environment where all students feel valued, accepted and treated with equity."
The last time there was a national teacher of the year from Connecticut was in 2016 when U.S. Rep. Jahana Hayes was chosen for the honor. Hayes was a teacher at Kennedy High School in Waterbury at the time.
Gov. Ned Lamont and Education Commissioner Charlene M. Russell-Tucker held a news conference Wednesday to announce the honor that Kielma is a finalist.
The National Teacher of the Year Program's Selection Committee will interview the five finalists and the decision on the 2023 National Teacher of the Year will be announced in the spring, the governor's office said.
Kielma has taught in Connecticut since 2002. For the last 15 years, she has taught biology, biotechnology and forensics, environmental science, anatomy and physiology, and the Advancement Via Individual Determination class at Bristol Eastern High School, the governor's office said.
Dr. Catherine Carbone, superintendent of Bristol Public Schools, said the school district "could not be more proud of Carolyn."
"This is an extraordinary achievement for Carolyn and her family, Bristol Public Schools, and the State of Connecticut. She was well-deserving of the state's highest teaching honor and I know that she will continue to represent our district and state with pride as a finalist for National Teacher of the Year. Carolyn is a talented, dedicated, and exemplary educator and I am truly excited for the impact that she will continue to have beyond her classroom. Congratulations, Carolyn," Carbone said.
Lamont said he is delighted that extraordinary teachers are receiving national recognition for their service.
"Ms. Kielma has provided so many students in the Bristol Public Schools system with a top-level education, and I've heard nothing but extraordinary compliments about her from her colleagues and students, many of whom I had the honor of meeting late last year when we visited Bristol Eastern High School to surprise Ms. Kielma with the announcement that she has been selected as Connecticut Teacher of the Year," Lamont said in a statement.
"She has made a real impact on the lives of many young people, and I thank her for her dedication to Connecticut's public schools."
Commissioner Russell-Tucker said Kielma "is a dedicated educator, focused on providing all her students the best possible, highest-quality learning experience. She believes that learning is not about knowing the right answer – it is a process of discovery. Carolyn is also a model of inspiration for her peers and is so deserving of this honor."
Kielma recently received a fellowship grant from Fund for Teachers to study wolves, bears, and elk at the Grizzly and Wolf Discovery Center and within Yellowstone National Park and share her experiences virtually with her students and she coordinates STEMonday, a monthly science, technology, engineering, and mathematics challenge that connects and builds relationships between elementary and high school students, according to the governor's office.