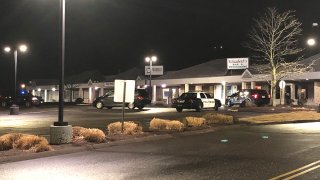 Police are investigating several burglaries at a shopping plaza in Rocky Hill overnight or in the early morning hours.
Police said there were four burglaries at the Shunpike Village Shopping Center at 825 Cromwell Ave.
They responded to the plaza around 4:40 a.m. Friday to investigate after employees of Elizabeth's Restaurant reported a burglary there.
When police checked the other businesses in the plaza as well, they found that The Jamaican Kitchen, Michel Angelo's Pizzeria and Sweets By Jenna had also been burglarized.
No suspects were located.
The Rocky Hill Police Department detective division is investigating.
Anyone with information is asked to call Detective Seguin at the Rocky Hill Police Department at (860) 258-7640 and reference case number 23-5670.