It's not a lot of snow but the timing is unfortunate. A burst of snow is going to cause some issues for the evening commute Tuesday. It's a classic Alberta Clipper system diving out of Canada and heading toward New England. Anytime an upper level system dives underneath us this time of year it's worth watching.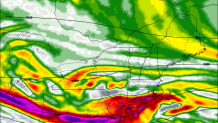 One thing that I'm watching closely is a strong zone of lift in the lower parts of the atmosphere. A strong low level jet will lend itself to strong low level convergence and lift over Connecticut. It appears we're in the area where this low level forcing is maximized. This argues for a period of moderate to heavy snow across Connecticut right during the evening commute.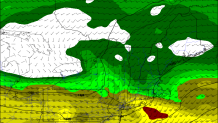 Right now I'm thinking 1"-3" of snow is likely across Connecticut. There is an opportunity for a bit more than 3" of snow - in the hills especially - if the snow is able to be "fluffy" in nature. At this point I don't see a huge signal for very light and fluffy snow (i.e. 15:1 or 20:1 snow to liquid ratios) but this will have to be watched. I do expect light snow to continue through most of the overnight across northern Connecticut and possibly through right around daybreak Wednesday.
Beyond tomorrow the weather pattern is looking active and more wintry. I expect several chances for snow or wintry mix through day 10. Stay tuned!