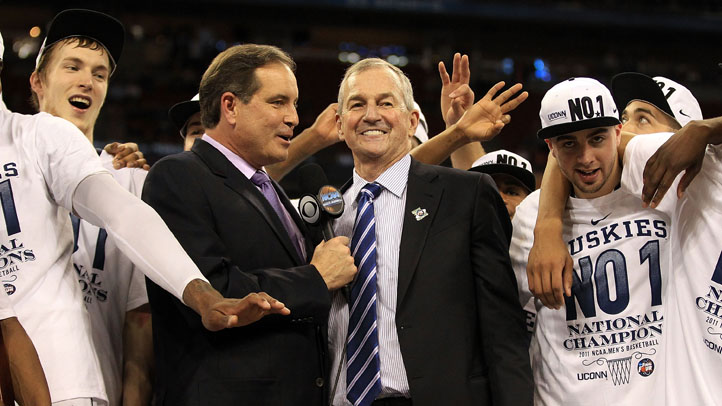 UConn men's basketball coach Jim Calhoun has been on leave because he is suffering from spinal stenosis and went through a two-hour surgery on Monday and is expected to make a full recovery.
Spinal stenosis, according to the Mayo Clinic, is a narrowing of one or more areas in the spine, which can put "pressure on the spinal cord or spinal nerves at the level of compression."
Surgeons at Beth Israel Medical Center in New York removed a large extruded disk fragment that was pressing on the spinal nerve and decompressed the area around the nerve, according to a statement from UConn.
"I am very fortunate to have been treated by three of the very best surgeons," Calhoun said in a statement. "My heartfelt thanks to them and the entire Beth Israel community, who have made every effort to ensure my stay is as comfortable as possible. Lastly, thank you to the people across Connecticut and beyond who have reached out to offer their support. It means a great deal."
Calhoun will remain hospitalized overnight and is expected to be released on Tuesday.
Calhoun's coaching status will then be evaluated on a day-to-day basis.The injury has sidelined Coach Calhoun since early February, when he decided to take a medical leave of absence. He has since missed seven games, to which the Huskies went 3-4.
He has missed seven games. The Huskies' play in Providence on Tuesday The Huskies' finish conference play with a home game against Pittsburgh on Saturday, then the Big East tournament starts next week.

"He is UConn basketball. I really hope he comes back because it would be very different around here, I think," says UConn Junior Todd Massedge.

Associate head coach George Blaney will continue to be in charge of the team in Calhoun's absence.