Students from Canton brought Valentine's Day cards to frontline workers at several health care facilities in the region this Sunday.
Hospital officials said students from Canton Intermediate School and Canton Middle School brought the cards to Hartford Hospital.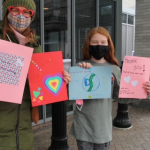 "Very profound, and we couldn't be more thankful," said Hartford Hospital President Bimal Patel.
Patel says this kind gesture means a lot, especially on Valentine's Day and as we approach the one-year anniversary of the COVID-19 crisis spreading into the state.
"It's a long battle and I think, you know, with the support of the frontline workers, we have made it through a sizable fight," Patel said.
Student Siena Jamieson and her mom, Amy, delivered the cards with special messages thanking them for their work throughout the coronavirus pandemic, hospital officials said.
"I felt really good dropping off the cards," Siena Jamieson said.
Kids and parents delivered approximately 400 Valentine's Day cards.
"It really made us feel like they do a lot for us and we need to give back to them," said Riley Ahlgren of Canton.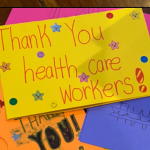 "I really hope that they know we haven't forgotten what they're doing out there right now. I just feel like it's been a year. It's been a long year. And we all have tunnel vision and we're all thinking about what's going on in our own lives right now and not be able to do," said Amy Jamieson of Canton.
"But these people are working day in and day out, saving lives, holding people's hands as they're dying and all of that stuff. I just hope they really feel the love from our community because it's so important and we're going to get through. And I want them to know that," she continued.
Besides Hartford Hospital, the cards were also brought to other places including UConn Health, St. Francis and first responders in Canton.
As of Friday, the state's coronavirus positivity rate was 2.22% and 27 more virus-related deaths were reported.