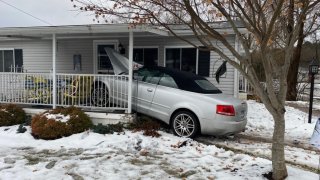 Police are investigating after a car ended up on the front porch of a home in Southington on Monday afternoon and two teens are in custody.
Officers received a call from Queen St. Liquors around 12 p.m. reporting a man and woman who had just shoplifted from their package store.
Investigators said the two suspects, identified as two 16-year-old males from Waterbury, stole several bottles of liquor before fleeing in a vehicle.
The two suspects went down Aircraft Road and hit two cars and a home on Hemlock Drive before fleeing on foot, police said. Officers surrounded the area, found the two suspects and were able to take them into custody.
A woman was home when the vehicle hit her house, police said. No structural damage nor injuries were reported.
After the crash, investigators said they learned the vehicle involved had been reported stolen out of Torrington.
According to police, the 16-year-old male who was driving the vehicle was charged with larceny, conspiracy to commit larceny and interfering with an officer. He was also issued a misdemeanor summons charging him with reckless driving, failure to drive in the proper lane, operating without a license and evading responsibility.
The 16-year-old male passenger is facing charges including larceny, conspiracy to commit larceny and interfering with an officer, police added.
Both teens were processed and turned over to the custody of their parents.
The crash remains under investigation.