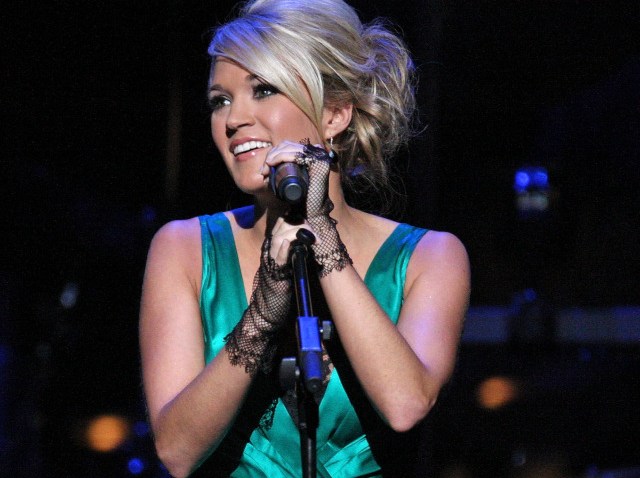 Carrie Underwood's first of two Connecticut stops on the "Play On" tour was no disappointment to the crowds and one thing that was clear form the audience is that "American Idol" live performances did not lie. Carrie can sing.
During her show at The Arena at Harbor Yard in Bridgeport on Tuesday, she sang all her hits, with a focus on songs from her new album.
The Oklahoma-native belted out lyrics and high notes with precision like it was her job, which it is.
While Underwood pulled off some amazing stunts during her show, including dangling from a swing, and riding a pickup truck held by string into the audience, she's not much of a dancer.
Fortunately, the rising sets and dynamic graphics behind her set her apart and drew attention away from her dancing.
Members of Underwood's fan club were asked before the show to select a specific different genre for her to sing. They could choose between the 80s, 90s, Rock and classic country. Voters in Bridgeport chose 80s, so Underwood sang Dolly Parton's "Nine to Five."
And, of course, something special was left for the end of the show, but we don't want to ruin it for those who will go to the show at MGM Foxwoods on Saturday.
Relative newcomers Sons of Sylvia opened for Underwood. The trio, best known for collaborating with Underwood, will launch its own album in the future.
Next up was country veteran Craig Morgan, who energized the crowd with his hits, including "Bonfire," "International Harvester" and "That's What I Love About Sunday."
Amid his big hits, Morgan took a step away from his genre, singing songs that might have surprised the crowd, including Lionel Richie's "Easy" and The Steve Miller Band's "Joker."
But, Underwood was the star of the show. And, along with entertaining the crowd, she thanked Bridgeport for supporting her during her third appearance in the city and encouraged her audience to sing along.