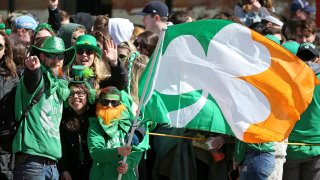 St. Patrick's Day is falling on a Friday during Lent for the first time in six years.
The March 17 holiday is said to be the day the patron saint of Ireland died.
While there is religious significance to the holiday, it is better known as a day for parades, partying, and all things Irish, including corned beef and cabbage.
As part of the Catholic faith, the Lenten season is a time of penitence that requires sacrifice, including abstinence from eating meat on Fridays.
So what is a Catholic to do today if they want to dine on some traditional corned beef?
The good new is that Connecticut's three dioceses have granted the faithful a special dispensation to allow them to eat meat today.
Those who do eat meat on St. Patrick's Day are required to abstain from meat on a different day or "undertake another work of charity, exercise of piety, or an act of comparable penance that day."