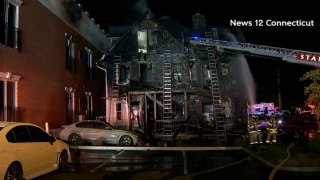 A firefighter was injured while battling a fire at a multi-family home in Stamford early Wednesday morning and the cause remains under investigation.
Firefighters were called to the home on Seaview Drive around 2 a.m.
They found heavy fire on all three floors of the home.
Firefighters went into the home to search for anyone inside, but everyone had gotten out safely, according to fire officials. The residents were alerted to the fire by smoke detectors and barking dogs, fire officials said.
Authorities said one firefighter was injured and was taken to the hospital but has since been released.
The fire appears to have extensively damaged the home and caused some damage to an apartment building next door. It took firefighters nearly three hours to bring the fire under control, officials said.
A total of eight people were displaced by the fire.
The fire marshal is working to determine the origin and cause of the fire.