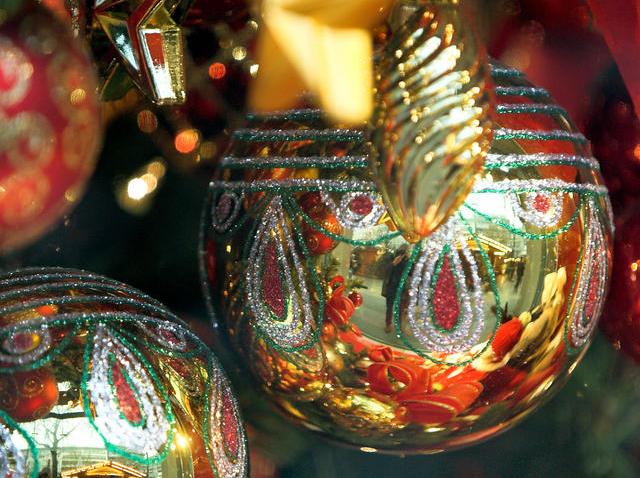 Thanksgiving is over, so is Black Friday, so the Christmas season is officially here, and we're ready to deck the halls or at least enjoy the way those more talented that us do it.
You don't have to travel far to find something much more tasteful than your neighbor's tacky blow up Santa in the helicopter or enormous inflatable snow globes.
Here are some classy displays of the season to check out:
Gillette Castle State Park
in East Haddam looks medieval from the outside, but looks are deceiving because inside is decked out in holiday beauty. Holiday decorations designed and created by volunteers are on display at William H. Gillette's 24-room home through Dec. 20, It's open on Saturdays and Sundays, 10 a.m. to 4 p.m. and there are three Friday evening showings: Dec. 4, 11 and 18, from 4 p.m. to 8 p.m. Admission is $10 for adults and children 13 and over, $4 for children ages 6-12, and free for children ages 5 and under.
Outside, pine cones and icicles can be a nuisance, but when they are inside at
Osborne Homestead Museum in Derby
, they bring on the holiday spirit. The holiday decoration theme is "The Wonders of Nature" and the rooms are also decorated with nature we don't have to clean up: stars, birds and greens. The exhibit is up until Dec. 20 and you can see it from Thursdays through Sundays, 10 a.m. to 4 p.m. Admission is free and donations are accepted. On the Friday evenings, Dec. 4, 11, and 18, the museum will present "Twilight Tours," highlighting the special glow of the decorations in the evening hours, from 4 to 6:30 p.m. Group tours for adults and youth programs are available during the weekdays.
Torrington
's
Hotchkiss-Fyler House Museum
, a Victorian mansion, is adorned with traditional garlands, decorated trees and floral arrangements Tours run Tuesday to Saturday, from noon to 4 p.m., Dec. 12 to 27. Admission is $7, but you can get in for $5, if you donate non-perishable food for the Friendly Hands food bank.
While these are all feasts for your eyes, the
Keeler Tavern Museum
in Ridgefield has a feast for your stomach. Christmas luncheons are served daily at 11:30 a.m. and 1 p.m. from Dec. 8 to 12. Tickets are $23 per person and you have to make reservations. The Holiday Boutique is open from 10:30 a.m. to 3:30 p.m., Dec. 8 to 12 and on Dec. 13, from 1 to 4 p.m.