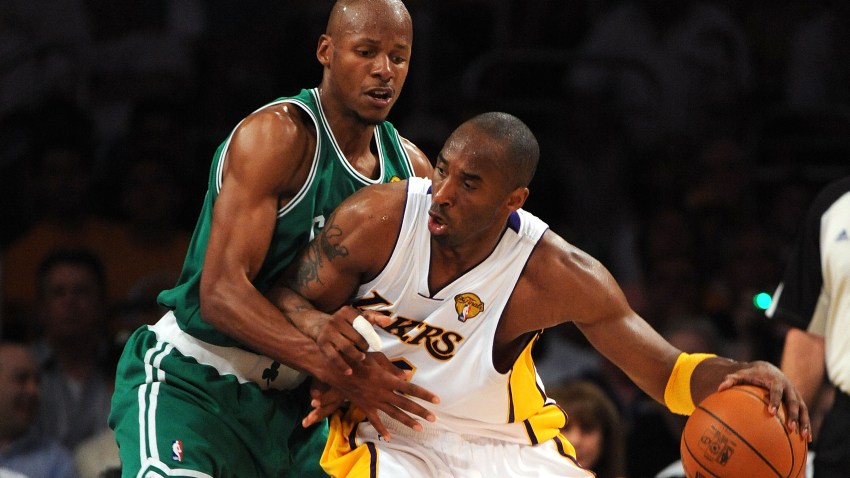 The Boston Celtics scored 10 consecutive points late in the fourth quarter and Ray Allen set an NBA finals record with eight 3-point baskets to defeat the Los Angeles Lakers.
The Celts tied the best-of-seven series at one game a piece in the103-94 match-up on Sunday night in LA, .
Allen scored 32 points, including seven 3-pointers in the first half, while Rajon Rondo had 19 points, including six during the decisive 16-4 run at the end of the game to go with 12 rebounds and 10 assists for his second triple- double of the playoffs.
Lakers' Pau Gasol scored 25 points and Kobe Bryant and Andrew Bynum had 21, as the Lakers lost their first home game of the playoffs after nine victories.

The Celtics head back and Game 3 will be played Tuesday in Boston. If they can win all three home games, the Celtics would win the series at home.
The Celtics led by 14 twice in the second quarter, 42-28 and 47-33.
Boston led 54-41 with two minutes left in the half, but the Lakers scored the final seven points of the quarter, with Bryant intercepting a pass by Shelden Williams and making a 3-point basket with two-tenths of a second before halftime, to trail by six, 54-48.

The Lakers started the second half with a 9-2 run to take the lead 57-56. There were five lead changes and five ties during the remainder of the quarter, with neither team taking more than a three-point lead.

The score was tied 72-72 at the start of the fourth quarter. After three lead changes and three ties, the Celtics took the lead for good on Rondo's layup with three minutes, 20 seconds to play, putting them ahead, 91-90.

Baskets by Kevin Garnett, Rondo and Perkins and a free throw by Kendrick Perkins increased Boston's lead to 98-90 with 1:12 left. Bryant, hobbled by foul problems throughout the game, responded with a 3-point basket, cutting the lead to 98-93 with 52.9 seconds remaining, but the Lakers were unable to get any closer .
Copyright CNS - City News Service