There is a lot of anxiety coming with the COVID-19 health crisis and lots of people are looking for healthy ways to practice social distancing while enjoying the outdoors.
Some people, including 5-year old Lucas Massimino, are turning to gardening.
"I'm ready to start planting my tree," said Massimino. "I might even plant it in the backyard."
It's a new adventure for Lucas and his dad, Keith.
"It's something that we can do together especially in the nice weather," said Keith Massimino. "It's a great morale booster and it provides the whole family with an activity that they can do together."
Dietrich Gardens has become quite the destination for new and regular customers. The shop offers a wide selection of planting seeds, flowers, and vegetables.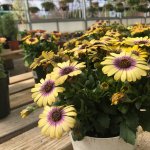 Store manager, John Dietrich told NBC Connecticut that one of the main reasons business is up is due to what's known as "plant therapy."
"It gives a lot of people peace of mind," said Dietrich. "It allows our minds to stay active and it's a healthy and positive activity."
It's a great opportunity for people who want to begin growing their own food supply.
"People are more likely to want to grow their own food because there's not a lot of food in the grocery store," said Dietrich. "It's the perfect time to start too because we're going into the growing season."
Melina Mansour is a regular at Dietrich Gardens and said that gardening is a great getaway during a time where a sense of normalcy seems to be absent.
"It's life-saving," said Mansour. "You get to be out in the fresh air, touch things that are real and the experience is simply the best especially since we have to stay indoors."
The business is beginning to prepare for Mother's Day and they hope that their aisles will be filled with flowers and more vegetables.