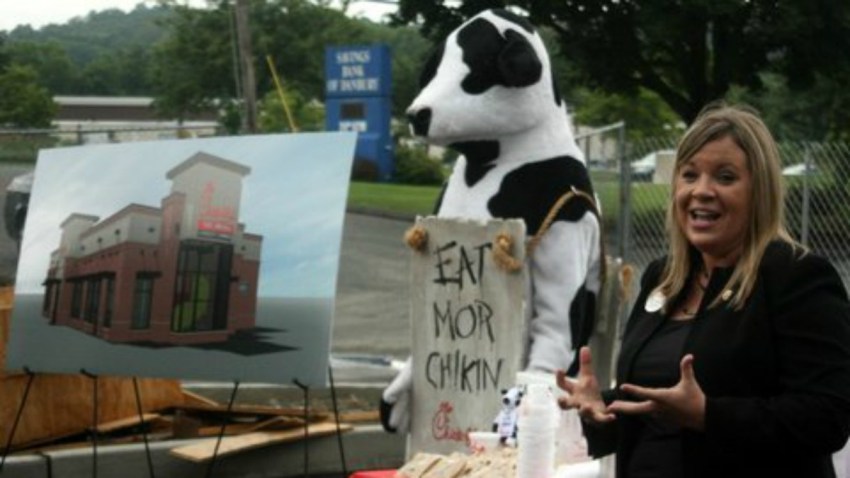 Chick-fil-A broke ground on its first Connecticut restaurant Tuesday.
The chicken fast food chain, most popular in southern states, plans to open first in Brookfield in September, followed by three other locations in Wallingford, Danbury and Enfield. Currently, the closest locations are in Massachusetts, New York and New Jersey.
Brookfield officials joined owner Devon Scanlon, of Brookfield, at the 140 Federal Road restaurant site on Tuesday morning to kick off the countdown to the grand opening.
"Chick-fil-A provides the ideal opportunity to own my own business and have a positive impact on my hometown," Scanlon said in a statement. "I couldn't be more excited to bring Chick-fil-A's freshly prepared food and signature customer service to Connecticut."
The Brookfield Chick-fil-A will seat 109 people inside, also offering outdoor seating, and patrons can also get take-out orders from the drive-thru. The new location, which is expected to create at least 60 jobs, will also feature free Wi-Fi and an indoor play area that is toddler-friendly.
The first 100 adults to line up for Chick-fil-A on the day of the grand opening will be awarded with one free meal a week for a year in their First 100 celebration. A meal includes a Chick-fil-A sandwich, waffle fries and a medium beverage. More information is available on the Chick-fil-A website. At past First 100 celebrations, patrons have been known to camp out a day in advance with tents and electronics to pass the time.
Scanlon is a Brookfield High School graduate with a bachelor's degree in sports management from Elon University and a master of business administration degree from North Carolina State University. After a career in the hospitality industry, Scanlon decided that opening the first Connecticut Chick-fil-A would by a "good fit for her" after encouragement from her brother-in-law who owns a Tennessee Chick-fil-A, according to a news release.
The Connecticut location will be one of 88 stand-alone locations nationwide. In 2013, many new Chick-fil-A locations reported more than $5 million in annual sales.
Consumer Reports readers voted Chick-fil-A's signature chicken sandwich "tastiest chicken sandwich" in 2014.
You can stay up to date on construction progress and grand opening festivities on the Brookfield Chick-fil-A's Facebook page.