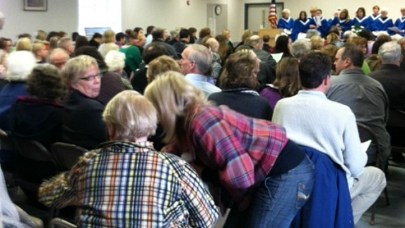 Sunday marks one week since the Somers Congregational Church went up in flames. This morning the town of Somers let the congregation hold a service in the town hall, where parishioners packed the auditorium.
"I think today will begin a healing process for everyone. It will be a really good start," said Rick Skodinski of South Windsor.
Many hugged, kissed and shared memories of their old church.
"It will be beautiful, it's bringing us together after a great loss. Our grandchildren were baptized there and we're meeting a lot of nice people," said William Hitchcock of Enfield.
Parishioner Rick Skodinski took a picture of the church a few weeks ago and showed everyone at this morning's service.
"It's a recent picture from a bell concert that we had this past holiday season. It's tough to see something like that and what it was," said Skodinski.
Church members said they want to know who set the fire.

"God will forgive you," said one parishioner.

"It's dramatic, everything that happened. We're trying to get back to some sense of normalcy."

Police said the cause of the fire is still under investigation.