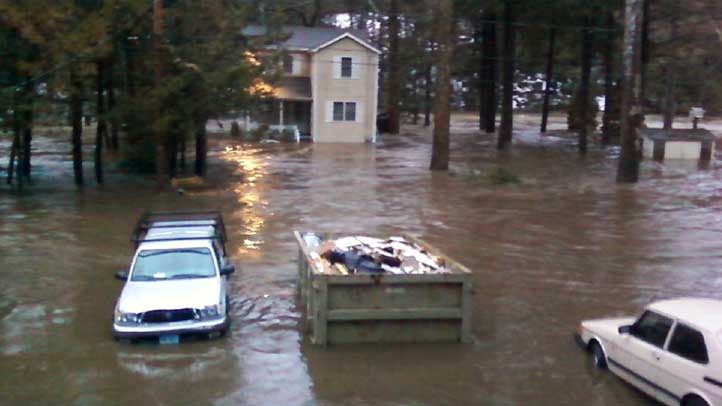 Up to 4.23 inches of rain damaged roads and bridges and flooded houses and neighborhoods on Monday. In some towns, fire officials said they've never seen anything like the flooding we now have.
In Naugatuck, filling a huge hole on Rubber Avenue is a low priority list because there are so many other issued to deal with.

Naugatuck is just one of many towns affected by flooding. Southington is another.
At Ryan Raymond's Southington home, water blew out two water heaters in the basement and the furnace.
"So we have no hot water," Raymond said.
For other homeowners, clearing out the basement is the least of their problems. They can't even get in their homes.
Several people had to be rescued from the high water Southbury when the Pomperaug River overflowed.
"We were lucky enough to move most of the valuable stuff out earlier, but there is some stuff that's going to be missed," Steve Hettenbech, of Southbury, said.
One East Hampton family is unable to get out because the bridge leading to their home is gone.
"I can't go to work. My wife can't go to work. There are no rescue vehicles that can get to us," Thomas Cooke, of East Hampton, said.
Some homes still have no power after it was knocked out on Monday. Connecticut Light & Power's outage map indicates that just over a dozen homes were affected as of 7:30 a.m., and most are in Manchester.
Nineteen homes in Shelton have no power, according to United Illuminating.
The rain is also creating potholes or making existing holes worse.
Hartford Mayor Pedro Segarra is asking the public to be on pothole patrol and call or e-mail the city's 311 line if they spot one.
City crews have patched more than 2,500 potholes, but they can only make temporary fixes until the weather gets warmer.