Saturday morning update: Good morning! No real change to note in our overnight computer models. We're still on track for a bit of accumulating snow in the high elevations of Litchfield County tomorrow morning (maybe 1" or 2"?) and occasional rain/snow showers through the day and into Sunday night and Monday. The biggest question is how widespread the snow showers will be across the rest of the state Sunday night and Monday - I'm thinking the coverage is relatively scattered - but still can't rule out a few heavier bands resulting in a burst or two of snow even around Hartford and New Haven.
Previous Friday update: Sunday will be unpleasant. Cold, windy, and showery with snowflakes across parts of Connecticut. In fact, it looks cold enough that there will be some snow accumulation across the Litchfield Hills on Sunday - talk about a change from the 60s today!
Here's the weather setup across the region. A strengthening low pressure will "close off" in the upper levels of the atmosphere. Effectively, it will get cut itself off from the jet stream. This happens with a fair amount of regularity this time of year with varying impacts across the region. There are a number of possible impacts to watch.
Daybreak Sunday - A flip to snow in the hills
A powerful cold front will sweep east causing temperatures to drop from near 50 at midnight Sunday morning into the 30s by daybreak in the hills. Strong lift in the atmosphere will produce a quick period of downpours statewide between 2 a.m. and 6 a.m. and in Litchfield County it looks like the cold air will arrive in time for a change to snow and even a bit of accumulation.
Below is a sounding showing temperature and dew point through the atmosphere valid 4 a.m. Sunday in Canaan up at about 1,000 feet. You can see plenty of moisture in the low levels of the atmosphere (temperature and dew point...red line/green line...next to each other implying relative humidity near 100%) and lift in the atmosphere (the farther the thin white line juts to the left the stronger the upward motion of air is).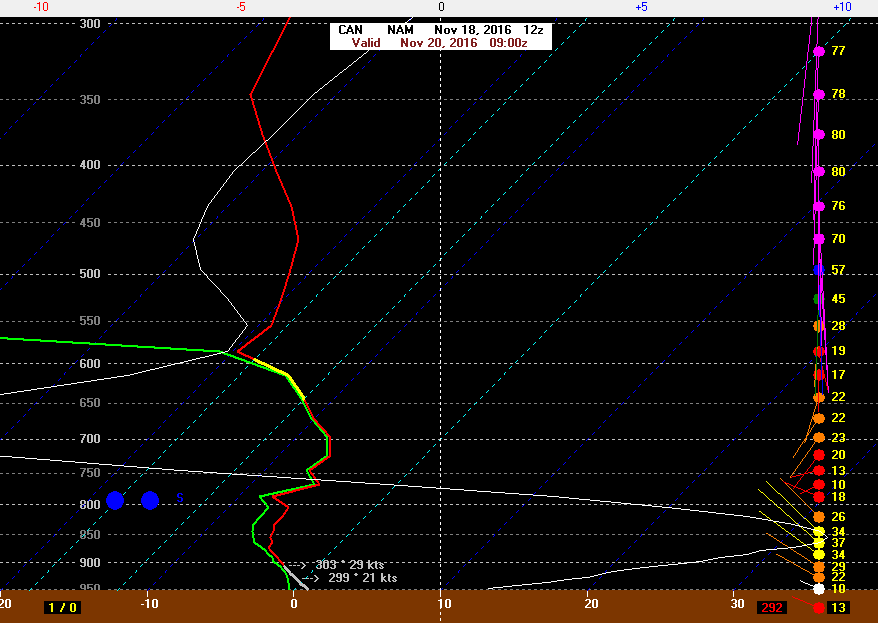 This setup could produce a quick inch of snow in some of the hilltowns right around daybreak and is something to watch closely. In the valley locations and along the shoreline it should be a bit too mild for a much in the way of accumulation though a few stray wet snow flakes around daybreak are still possible. While temperatures in the hills will drop to around freezing it will be milder in the valley. You can see this at 1 p.m. in Hartford on Sunday with temperatures near the ground in the low 40s. This is not a snow sounding.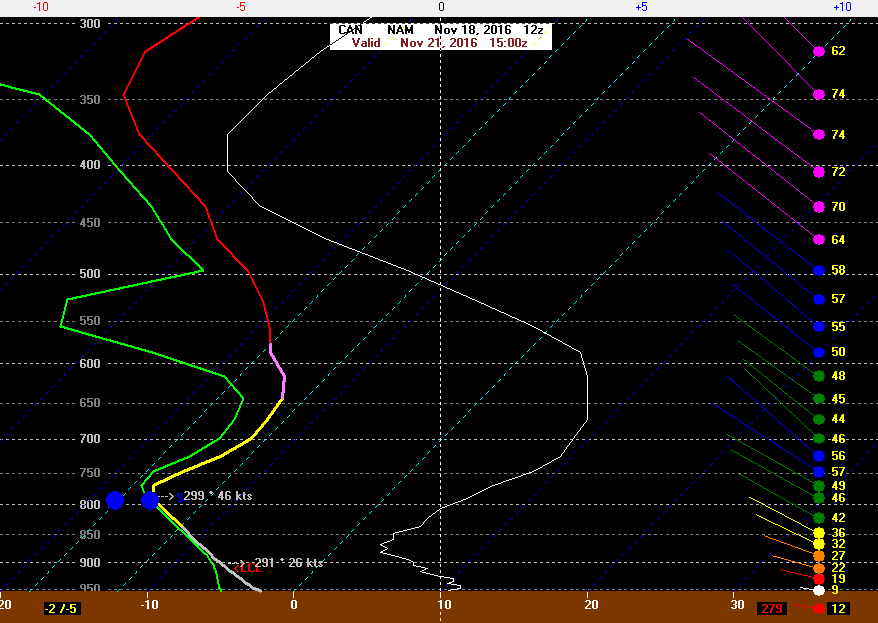 A few rain or snow showers are possible during the day Sunday across the state - especially in Litchfield County. Minor additional accumulation is possible in the hills.
Sunday Night & Monday Morning - Snow even in the valleys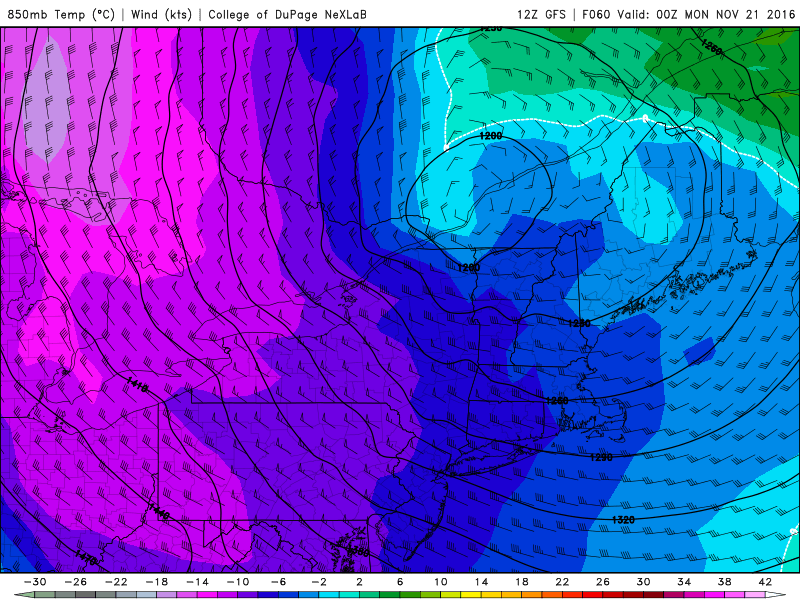 By Sunday evening temperatures will be cold enough to support snow even down to the valley floors and along the shoreline. Cold air from the northwest will advect (be pushed by the wind) in all day. Most of our computer models show 850mb (around 5,000 feet up) dropping to -8C by 7 p.m. Sunday - definitely cold enough for snow.
The question always is with these setups will there be enough moisture to support precipitation? Frequently the answer is no - but in this case it may be different. Remnant streamers of lake effect snow may make their way south from Lake Ontario. A strong northwesterly wind and low level moisture will aid in producing some "upslope" in the hills - basically the wind forces air up and over the ridges which can result in an enhancement of clouds and sometimes precipitation. Also, on the backside of this upper level low there appears to be an unusually high amount of low level moisture in southern New England - we're not drying out as quickly as we normally do.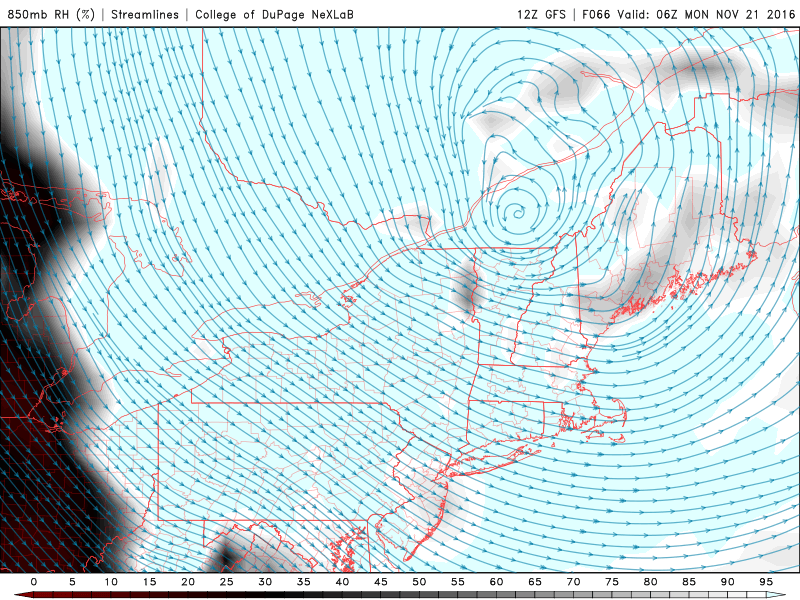 You can see that robust moisture with relative humidity of near 100% about 5,000 feet up across the state. While it won't snow the whole time periods of snow showers appear likely. In the hills - where there is a bit of an assist from that "upslope" effect I can't rule out some additional accumulation. Elsewhere, patches of accumulation are possible under heavier bands. This is very much like a summer thunderstorm where some towns get it and others don't.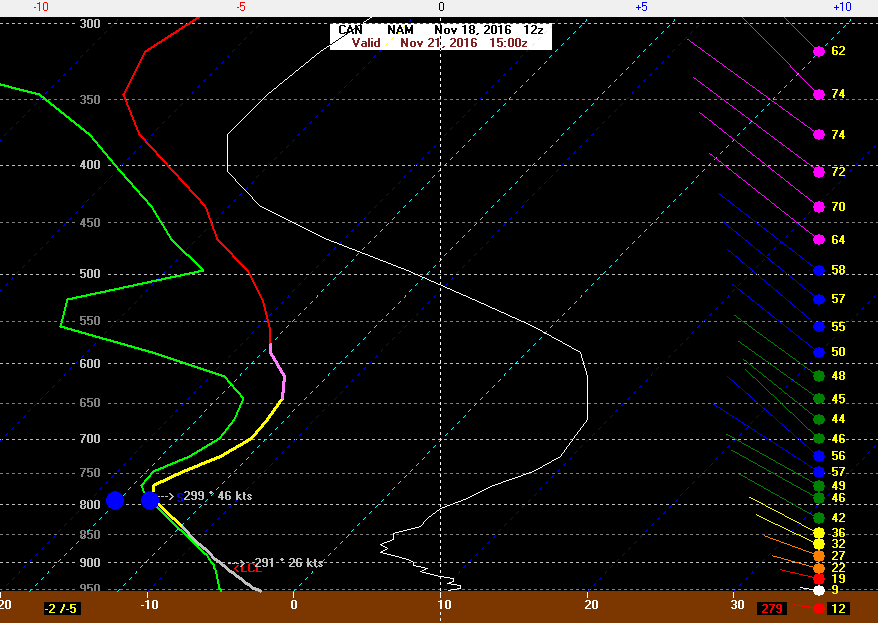 This continues through Monday morning. This sounding for Canaan valid at 10 a.m. Monday shows a favorable setup for snow with a deep layer of moisture (high relative humidity around -15C which supports dendrite production) and temperatures well below freezing from the clouds to the ground. Of course, it is not as favorable in the valley and along the shoreline but you get the idea.
Strong, gusty winds
Every town will have to deal with strong gusty winds. Computer models support wind gusts of 40-50 mph which, when coupled with temperatures in the 30s, will result in unusually cold wind chill values. A few isolated tree and power line issues are possible.
The bottom line
Most of the state along the I-91 and I-95 corridors can expect to see cold, wind, and scattered snow showers Sunday night and Monday morning. A few towns may even pick up some accumulation - though it won't be everywhere.
In the hills, particularly in Litchfield County, enough pieces are coming together where 1"-3" of snow is possible in the higher elevations. There will likely be a few different times of snow - one around daybreak Sunday morning and another window Sunday evening through Monday morning. Expect some areas of slippery travel.
It's definitely not a big storm but a good reminder that the calendar says it is mid November and it will finally feel like it!
Get the full forecast here.
Connect with me on Facebook and Twitter!