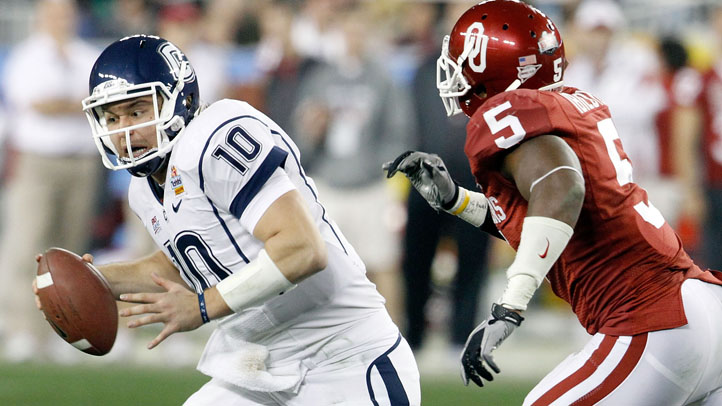 A group critical of the BCS is challenging the legality of a contract that calls for the Fiesta Bowl to receive more than $8 million over 20 years from an Arizona visitors bureau, and for the bowl to require teams and their affiliated groups to stay at specific hotels.
Playoff PAC calls this a "kickback," and has filed a complaint with the Attorney General George Jepsen's office asking for an investigation. Connecticut lost to Oklahoma, 48-20, in this year's Fiesta Bowl. Bowl officials said the accusations are off base and the contract is not only legal but advantageous to the schools.
"We believe that this arrangement may violate Connecticut's prohibition on 'receiving kickbacks,"' the PAC's co-founder, Matthew Sanderson, wrote in the complaint filed with Jepsen. Sanderson noted that UConn, which lost money on the Fiesta Bowl, spent $460,000 in hotel lodging and meals.
The Associated Press obtained a copy of a complaint filed with Connecticut. Playoff PAC said it planned to file eight similar complaints later Friday in other states with public schools that have played in the top-tier bowl game.
The PAC, which was formed to push for a college football playoff system, maintains that the contract squeezes schools by forcing them to fill a minimum number of rooms at high-end places. Fiesta Bowl chairman Duane Woods counters that the arrangement benefits schools by locking up large blocks of rooms at below-market rates.
The Fiesta Bowl signed the "Hospitality and Promotional Agreement" with the Scottsdale Convention & Visitor Bureau in August 2006 that calls for the bureau to pay the bowl between $210,000 and $442,000 a year for 20 Fiesta Bowls starting in 2007, and between $210,000 and $393,000 for the five national championship games the bowl is hosting during the 20-year period. The total comes to $8.2 million in cash and $300,000 in in-kind services.
In return, the bowl requires teams and their groups to spend a majority of their stay lodging in Scottsdale and Paradise Valley, and the bowl also provides the visitors bureau with promotion such as advertising, and hospitality such as a stadium suite and tickets to games and parties.
But Playoff PAC is casting a critical eye on the contract, especially when looked at in conjunction with game agreements the Fiesta Bowl signs with schools for each game. The game agreement with UConn, for example -- which the PAC obtained through a public records request -- spells out in detail exactly how many rooms the school must pay for, at what rate, and for how many nights.

Copyright AP - Associated Press