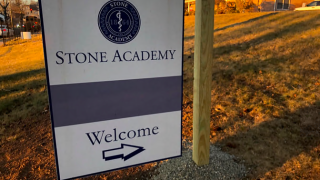 Stone Academy announced that they'll be closing all three of their campuses across the state after more than 150 years of operation.
A spokesperson said the campuses will be closing their doors before students can complete their training. Stone Academy said they're working with the state's Office of Higher Education (OHE) to make arrangements that'll allow students to complete their training.
Stone Academy has locations in West Haven, Waterbury and East Hartford. OHE officials said there are various concerns and challenges facing the academy, which resulted in the closures.
A total of eight compliance violations were identified, according to OHE.
Officials said they have concerns with the academy's National Council Licensure Examination (NCLEX) pass rates. The exam pass rates for 2022 at all three campuses were far below the required 80% pass rate.
It was also determined that nearly 20% of instructors at the academy were not qualified to teach in the practical nursing program.
Department of Public Health Commissioner Manisha Juthani, MD, said that Stone Academy appears to have done a poor job of educating its practical nursing students, and noted that the highest pass rate for the day and evening programs was an unacceptable 70%.
"The news that Stone Academy is closing its three campuses is extremely disappointing especially given the need of healthcare professionals in the workforce today," Juthani said.
The academy said they'll make arrangements to ensure all student records will be transferred to OHE for future access.
"For many months, our office has been working with the school to address a number of serious compliance issues that included unqualified faculty, invalid student clinical experiences and recording attendance," said Timothy D. Larson, executive director of the Office of Higher Education.
Students will either be able to continue their training at another institution or discontinue training when the academy closes. It's unknown when specifically Stone Academy will close.
Any students who want to continue their training can do so using existing financial aid to pay for the program.
OHE is the state agency that has regulatory oversight over private career schools in the state.