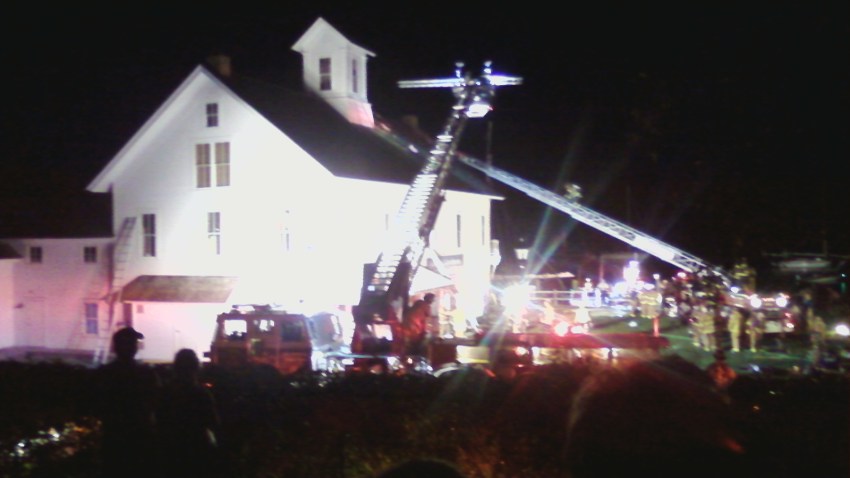 A wedding reception will still go on, but a family event might be postponed after fire damaged the Connecticut River Museum in Essex on Wednesday night.
A three-alarm fire broke out on a deck at the state landmark at 9:45 p.m. and quickly spread to the building. Witnesses said flames were shooting about 50 feet into the air when firefighters arrived.
Fire damaged the roof and the dock is structurally damaged and will have to be rebuilt.
Museum officials said they might to postpone Family Maritime Day, which is scheduled for Saturday.
On Thursday morning, work was already underway to patch the roof in case of rain.
It could be a couple weeks before the museum reopens the ground floor and first floor.
The Family Maritime Festival is planned from 1 p.m. to 5 p.m., where families can learn to make a rope and caulk ship, play maritime-related games and tour a schooner. That's followed by the annual picnick and concert.
When the fire began, several boaters were near the museum and they tried to put it out with buckets of water and an extinguisher, witnesses said.
Then, the Essex, Old Saybrook, Deep River, Westbrook, Killingworth, and Old Lyme fire departments responded to the blaze with the equipment to respond.
Firefighters worked quickly to put artifacts under tarps.
On Thursday morning, the fire marshal came in to investigate and people connected to the museum surveyed damage. The museum houses many exhibits and collections showcasing the river's history.
One of the items people connected with the museum were most concerned about was a mural done by a local artist.
Fortunately, damage to the mural is minor and an artist from New York will help to restore it.
Most of the damage appears to be to the roof.
"The Connecticut River Museum is a really vibrant regional treasure and has taken on a new and improved and much deeper role regionally and throughout the state in the last couple of years and they're doing some great work," Phillip Miller, Essex's 1st Selectman, said.
No injuries were reported. Investigators are looking for the cause and - said they are not considering the fire suspicious.
Fortunately, the Essex fire department was holding a training day, so crews were able to quickly respond to the fire.
Copyright AP - Associated Press