People from Connecticut traveled to Washington D.C. and pushed for action on issues important to them and their communities.
Some were guests of the state's congressional delegation at the State of the Union address.
On an important night at the nation's Capitol, Joseph de la Cruz was Representative Joe Courtney's guest.
"I joke it was a bucket list which I didn't know I had," de la Cruz, from Community Speaks Out in Groton, said.
They both think a priority for the country is the opioid crisis.
"My son brought it to our attention when he was addicted. My wife and I started up a group in response to it. And what we're finding now is a lot of the answers are love, outreach and making sure people have the services they need," de la Cruz said.
Another crisis advocates say deserves more action is childcare. It's costing billions of dollars in lost productivity, earnings and revenue.
Among those in D.C. was the executive director of the Friends Center for Children in New Haven.
"The nation's economy rests on the shoulders of early care and education teachers, and the system that they're in is on the brink of collapse," said Allyx Schiavone, Friends Center for Children.
Also a guest at the president's address was Alex Plitsas. The Army veteran lives in Fairfield and after the U.S. withdrawal of troops from Afghanistan, he helped refugees escape the Taliban.
"They are refugees of actions of our adversaries, our enemies, who are enemies of freedom, who are against our way of life, our principles of who we are as Americans and these are people who share our values," Plitsas said.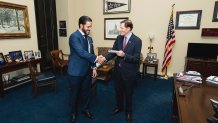 "They love our country. That's why they aided us," Sen. Richard Blumenthal said.
Both Plitsas and Blumenthal are pushing for lawmakers to support the Afghan Adjustment Act. We're told it would provide a more permanent status to Afghan refugees who come to this country right now.