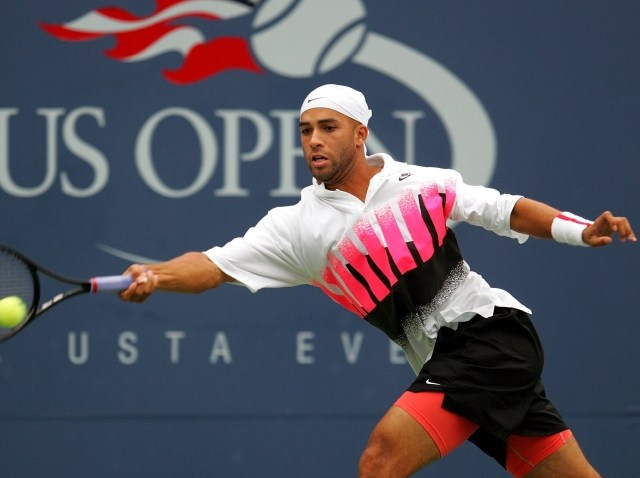 James Blake will get another shot at glory in this year's Pilot Pen Tennis at Yale. It was announced on Monday that the two-time Pilot Pen champion was granted a wildcard into the Olympus U.S. Open Series event on the ATP World Tour and Sony Ericsson WTA Tour.
Blake's title win as an unseeded wildcard in 2005 catapulted him into the U.S. Open, where he reached the quarterfinals before eventually falling in five sets to future Hall of Famer Andre Agassi.
Blake will be looking for similar success in New Haven this month, after recovering from foot and knee injuries that sidelined him for part of last summer and this spring.
"Earlier this year was very difficult for me, but this summer, I feel completely healthy and that has had a big impact on my game and how I feel about the future," Blake said. "I love playing at the Pilot Pen and have so many good memories from 2005 and 2007 when I won the titles. It's my hometown event, which means that all of my family and friends come out in the J-Block and support me in person, which never ceases to be special."
Once again, The Pilot Pen is partnering with Blake to raise money for his charity, the Thomas Blake Sr. Memorial Research Fund.
Blake created the charity in 2008 after the 2004 death of his father to gastric cancer. The charity raises money for leading-edge cancer research. The tournament will donate a percentage of all box seat tickets sold in the "J-Block," the cheering section created by the Pilot Pen during his run to the title in 2005 and which has received national acclaim as well as proceeds from Fila "J-Block" t-shirts sold on-site at the Pro Shop.
"Adding James Blake, a two-time champion and hometown favorite, to our field is one of the best ways to strengthen our player field even more," said Anne Worcester, tournament director. "James has such a strong following throughout Connecticut, it will definitely bring out all his fans far and wide, and in turn, we are delighted to help him support a cause about which he is so passionate."
Blake's first match will be on Monday afternoon, session two, and will not start before 4:30 p.m. Tickets are available for purchase in the J-Block and are on sale now. In addition, Blake will be one of the featured stars at Kids Day on Sunday, Aug. 22 (session one) and those tickets are also on sale.
The Pilot Pen still has three men's and two women's main draw wildcards to distribute and there are four spots in both main draws for advancing qualifiers. The tournament runs August 20-28 at the Connecticut Tennis Center at Yale.