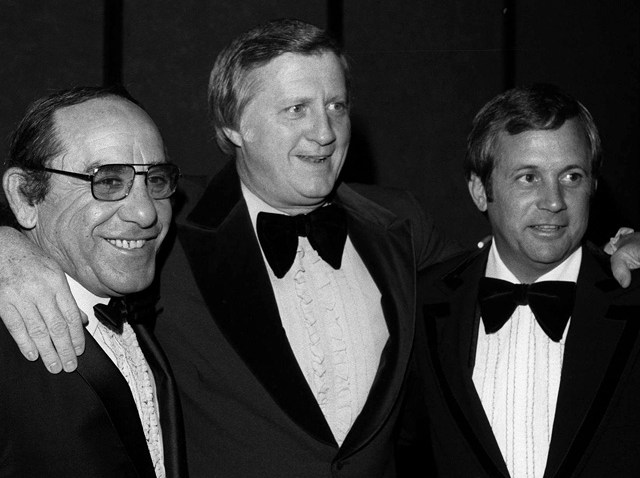 Yankees vs. Red Sox loyalties divide Connecticut almost in half, but the fierce rivalry is nearly invisible when it comes to condolence messages about the Yankees' famous owner's death on Tuesday.
George Steinbrenner died from a heart attack at the age of 80.
We asked you on Twitter and Facebook for messages and here is what some of you said.
A great loss to baseball...He waited for Bob Sheppard to pass away first so that Bob could announce his name as he crossed over..."And now...Yankees owner...George Steinbrenner..." RIP Bob and George -- Marc Guidone
It takes a lion to lead a pride and the Yankees were the most pride filled team in baseball during is rein -- @perkinsgordon
While I think the Red Sox are a better club, Steinbrenner's death at the age of 80 is a loss to all of baseball, not just "THOSE" Damn Yankees. He will be missed by all who enjoy the game. So long Boss -- Robert Kay.
I can't remember another owner who has created more headlines than his players! You always wanted to know what George was thinking -- Michael Netkovick.
RIP to THE greatest businessman in sports! Plus what humility, never said no to an opportunity to be made fun of himself or just be the butt of a joke. Baseball and the Yankees have had a terrible loss - Nancy Kay Ellis
George "The Boss" will be missed by Baseball in General....yes... even by us Red Sox Fans! Heartfelt wishes go out to his family -- Gina Pennell
The boss will be missed thoughts and prayers to his family. Out of all he did for the game my most memorable moment was to see Yogi back @ the stadium a true measure of George's greatness and humility -- Mark Zenobi
His family will be in our prayers -- @MUkers

As an avid Red Sox fan, I'm saddened to hear of his passing. There is no denying what he has done for the Yankee ball club. -- Valerie Ann Muckle

George Steinbrenner did quite a bit to change and shape baseball during his tenure as owner of the Yankees. Yes he was quite a character, but he had a genuine love for the game and for his team. May he rest in peace -- Lou Lange.
If you would like to include a message of condolence, include it below, post on our Facebook page, tweet us or send us an e-mail here.