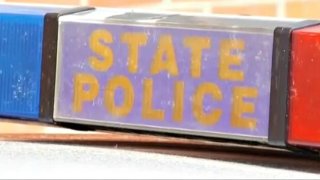 Connecticut State Police are searching for two individuals they say displayed knifes at two Windham Walmart employees, and then stole around $800 worth of merchandise.
On April 6 around 5:25 p.m., police said the two individuals were approached by two store employees after they were seen not paying for merchandise. Both individuals then took out a knife.
According to State Police, the person in the red and black button-down shirt and ripped jeans proceeded to make a stabbing motion towards the employees.
Officials said the individuals put the stolen merchandise in a black, older model Honda Accord Sedan, and fled the scene in an unknown direction.
If anyone has information on the identity of the two individuals, contact Trooper Vazquez at 860-465-5400, or the State Police Tip Line at 860-465-5469.