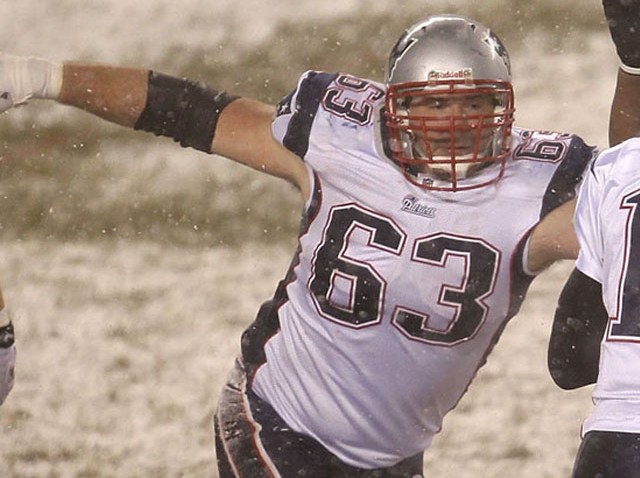 At 316 pounds, you wouldn't expect New England Patriots offensive lineman Dan Connolly to electrify the league with an array of dynamite moves on a record-setting kickoff return.
But Connolly did just that during Sunday night's win over the Green Bay Packers, and video of the accidental 71-yard kickoff return is drawing roars of laughter, unlikely respect, and tens of thousands or repeat viewings.
With that blooper-reel brilliance, Connolly earned the distinction of the longest kickoff return for an offensive lineman in NFL history. But many in the national sports media were eager to bestow additional titles to the large 'n' lovely Dan Connolly.
"Most Return Yardage by a Big Fat Guy in the History of the NFL," declared Tony Kornheiser on Monday's installment of ESPN's Pardon the Interruption. "It was a great return."
Connolly's unlikely gallop ended up being the game's momentum-changer. The Patriots were completely on the ropes at that point, down 17-7and heading into a humiliating halftime deficit. Connolly's long run sparked a 14-point swing in scoring, and an eventual New England victory.
"He was like Gayle Sayers out there," Tully Banta-Cain told the Boston Globe. "A much bigger version."
Connolly himself was unable to comment, suffering a head injury later in the game that kept him unavailable to the media.
It's not just Connolly's lumbering largesse that makes the play so fun to watch 20 times over again. It's Connolly's unorthodox style of carrying the ball. He keeps it squeezed to his chest with both arms, like he's running a 40-yard dash with a live Baby Jesus in his arms.
I'd love to see a New York Jets assistant coach try to stick out his leg and trip Dan Connolly on a kickoff runback. Connolly's brute force would accidentally sever the coach's leg from his body, then Connolly would on-purpose eat the severed leg, and then Connolly would get tackled just before scoring a touchdown.
Joe Kukura is a freelance writer who wants to know what they did with the booze confiscated from the burglars in 50 Cent''s closet.

Copyright FREEL - NBC Local Media