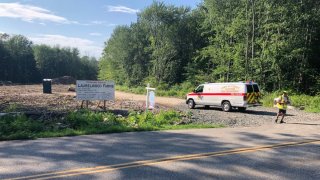 Vernon police have arrested the owner of a construction company and an employee after a trench collapse in July that killed another worker.
Dennis Slater, 56, of East Windsor, was working for Botticello Inc., laying pipe at a new housing development off Bolton Branch Road in Vernon on July 22 when dirt collapsed on him and he later died.
Vernon police have charged the owner of Manchester-based Botticello Inc., Dennis Botticello, 67, of Suffield, and Glen Locke, a 65-year-old equipment operator from Somers, in connection with the trench collapse that killed Slater.
Both men were taken into custody Friday and have been charged with first-degree manslaughter and first-degree reckless endangerment. They were each held in lieu of a $50,000 bond and are scheduled to appear in Rockville Superior Court on March 6.
Vernon Police Detectives along with investigators from the Connecticut Department of Labor's Division of Occupational Safety and Health and the U.S. Department of Labor OSHA Region 1 Criminal Investigations Team investigated the accident and the Vernon police investigation is continuing.
The arrest warrant applications said no trench box was used.
Part of the investigation included a conversation with a friend of Slater's from out-of-state who said she had been texting with Slater on July 12 and he had complained that he was working in a trench at his job site alone and it had collapsed on him twice.
One of the texts from Slater that she provided police said he had talked with his boss and said he needed more help.
Police said Locke had been working as a backhoe operator and Slater was working in the trench that they dug as they laid pipe when it collapsed.
Slater tried to get out and attempted to climb over a pipe to get out, but was not able to and a 25-foot section of wall collapsed on him, according to the arrest warrant applications.
The documents state that Locke was not able to use the backhoe to stop the collapse because a pipe was chained to the bucket.
Police also noted that the only ladders in the trench were those the fire department had placed in it and Locke admitted that they are supposed to have a ladder every 25 feet, according to the arrest warrant application.
After the trench collapsed on Slater, someone called 911 and an employee, Botticello and Locke jumped into the trench and used their hands and a shovel to try and dig Slater out. Then Locke used the backhoe to remove dirt. Once they got Slater out, the group started CPR until the fire department arrived.
Slater later died at the hospital, police said.
According to police, Locke admitted that the trench Slater was working in had collapsed twice the day before the collapse that killed his co-worker.
He also told police that he saw "the bank" on the top of the trench "starting to crack," but Slater had nowhere to go, the arrest warrant application said.
When police questioned Locke, he told the officer that they were supposed to "use a trench box to maintain the wall," and went on to say that they use them in certain applications "but the banks were holding up fine here. I guess we play the odds," according to the arrest warrant application.
Locke was also asked about his safety training experience during the investigation and he said he had been operating excavators for many years and had not had any trench or excavation training.
When investigators talked to Botticello, he said he did not do a lot of excavations, didn't have a written safety program and did not do excavation and trench training, just what was covered in the OSHA 10-hour training, according to police.
OSHA said it determined that Botticello failed to provide legally required safeguards and issued the company a citation for willful violations with proposed penalties of $375,021.
The agency said the company has contested OSHA's findings with the independent Occupational Safety and Health Review Commission.   
Anyone with information is asked to call the Vernon Police Department at 860-872-9126.