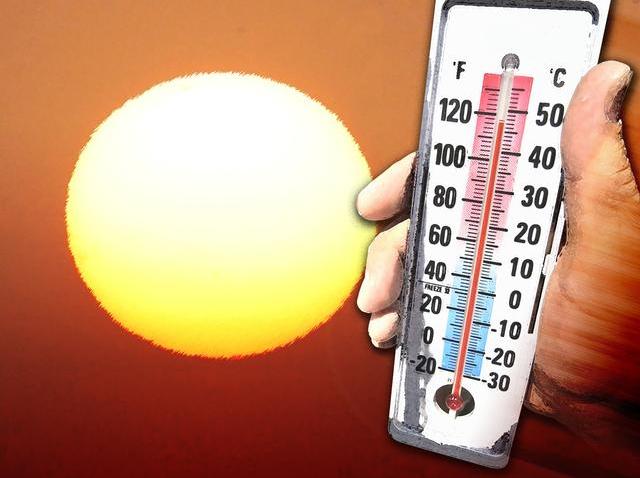 The forecast for today is for temperatures to reach 100 and a "code orange" is issued, which means means the air quality is unhealthy for people with respiratory problems, like asthma.
Anyone who does not have air conditioning at home might want to take advantage of some help escaping the uncomfortable heat.
Several cities plan to open cooling centers for Tuesday and more are likely.
Bristol: a cooling center is operating at the Senior Center 240 Stafford Ave. The center will be open until 9:30 p.m. on Tuesday night and will reopen at 6:30 a.m. on Wednesday, Thursday and Friday.

Danbury: The city has opened three cooling centers. An air-conditioned Hart Bus is located in front of 198 Main St. until 5 p.m., Veterans Hall on Memorial Drive in Rogers Park is open until 4 p.m. and Hatters Park Hall at 7 East Hayestown Road is open until 4 p.m.
Darien: cooling centers are in operation at the Darien Senior Center, 30 Edgerton St., (203) 655-1705. and at Darien Town Hall 2 Renshaw Road, at (203) 656-7300.
East Hartford: cooling stations are being operated at the South End Senior Center, 70 Canterbury St., from 8:30 a.m. to 4:30 p.m., Library, 840 Main St., 9 a.m. to 9 p.m., first floor lobby of Town Hall, 740 Main St., 9 a.m. to 9 p.m., 8:30 a.m. to 10 p.m., police lobby of the Public Safety Complex, 31 School St., 24 hours. No special staff or services will be offered at any of these locations.
Hartford: has opened a number of cooling centers, including Parker Memorial Community Center, 2621 North main Street until 9 p.m., Pope Park Recreation Center, 30 Pope Drive, until 9 p.m., Metzer Center, 680 Franklin Avenue, until 6 p.m., North End Senior Center, 80 Coventry Street, until 5 p.m., South End Senior Wellness Center, 830 Maple Avenue until 5 p.m., Parkville Senior Center, 11 New Park Avenue, until 5 p.m. and Hispanic Senior Center, 45 Wadsworth Street, until 5 p.m.
Middletown: cooling centers are operating at Middletown High School, 200 LaRosa Lane, formerly Wilderman's Way, until 9 p.m. on Tuesday and from 9 a.m. to 9 p.m., Wednesday through Friday. Only water will be provided. Domestic animals will be allowed, but dogs must be on a leash and cats must be in carriers. Updated vaccination records are requested. For transportation, call Middletown Area Transit at 860-346-0212 (Ext. 7) until 6 p.m. each day. After those hours, contact Middletown Emergency Management at 860-343-8002.
New Haven: the Betsy Ross Arts Magnet School at 150 Kimberly Ave, which is fully wheelchair accessible, will be open from 10 a.m. to 7 p.m.
Three other senior centers will open from 830 a.m. to 4 p.m.: Atwater Senior Center at 26 Atwater St., Newhallville Senior Center at 255 Goffe St. and the East Shore Senior Center at 411 Townsend Ave.
The city is also extending hours for four pool facilities; Hillhouse High School, Wilbur Cross High School, John Martinez School and
Conte School. Open swim will run from 5 p.m. to 8 p.m. through Friday and from 11 a.m. to 3 p.m. on Saturday. Splashpads are also open citywide from 10 a.m. until 9 p.m. daily.
New London: a cooling center will be open at the senior center at 120 Broad St. until 9 p.m., the Day of New London reports.
Norwich: the Rose City Senior Center at 8 Mahan Drive from 8 a.m. to 4 p.m.
Ridgefield: a cooling center is operating at the recreation center, according to the Ridgefield Press. It opened at 6 a.m. and will remain open until 10 p.m.
Simsbury: the library at 725 Hopmeadow St., is operating a cooling center from 9 a.m. to 8 p.m. and another at the Simsbury Senior Center, at 754 Hopmeadow St, from 8:30 a.m. to 4:30 p.m.
Tolland: will operate a cooling center at Tolland Senior Center, 674 Tolland Stage Road, until 7 p.m. on Tuesday and Wednesday.
West Haven: is operating a cooling center in Room A, in the basement of city hall, from 10 a.m. and 7 p.m. No smoking or food are allowed. For information, dial 211.
Westport: the Center for Senior Activities, 21 Imperial Ave., will be open as a cooling center until 7 p.m. on Tuesday.
On Monday, Gov. M. Jodi Rell's office sent the word out to cities and towns asking them to consider cooling centers and she has directed state troopers to check on stranded drivers and people at rest stops.
The City of Middletown will also open fire hydrant sprinklers at designated times and locations as follows:
The Highlands Crescent Drive bus stop, from noon to 4 p.m.
Maplewood Terrace, from 2 p.m. to 5 p.m.
Summer Hill Road and Woodbury Circle, from 2 p.m. to 5 p.m.
Macdonough School, from noon to 3 p.m. and 6 p.m. to 8 p.m.
Snow School, from noon to 3 p.m. and 6 p.m. to 8 p.m.
Residents are being asked to check on elderly neighbors who might not be able to get help themselves.
Libraries across the state also offer passes, including to state parks. Check your local library for its Web site for availability.
Along with cooling centers, the New Haven school district will kick off its annual summer meal program on Tuesday and offer free breakfast and lunch to all children under 18 who live in the city.
There are 36 sites where children, regardless of family income, can eat for free. The district served almost 200,000 free meals.

---
Dangers of exposure to extreme heat:
Heat exhaustion symptoms include: headaches; dizziness or lightheadedness; weakness; mood changes such as irritability, confusion or the inability to think straight; upset stomach; vomiting; decreased or dark-colored urine; fainting or passing out; and pale, clammy skin
If you have these symptoms, act immediately. If not treated, heat exhaustion may advance to heat stroke and death.
Move the person to a cool, shaded area to rest. Don't leave the person alone. If symptoms include dizziness or lightheadedness, lay the person on his or her back and raise the legs 6 to 8 inches. If symptoms include nausea or upset stomach, lay the person on his or her side.
Loosen and remove any heavy clothing.
Have the person drink cool water, about a cup every 15 minutes, unless it causes stomach sickness.
Cool the person's body by fanning and spraying with a cool mist of water or applying a wet cloth to the person's skin.
Call 911 for emergency help if the person does not feel better in a few minutes.
Heat stroke occurs when the body is unable to cool itself down. It can cause death or permanent injury if treatment is not provided.
The symptoms of heat stroke include body temperature over 103 degrees F, red, hot and dry skin, with no sweating; Rapid, strong pulse; throbbing headache; dizziness; nausea; confusion and unconsciousness.
If you see any of these signs, you may be dealing with a life-threatening emergency. Have someone call for immediate medical assistance (911) while you begin cooling the person. Do the following:
Get the person to a shady area.
Cool the person rapidly using whatever methods you can. For
example, immerse the person in a tub of cool water; place the person in a cool shower; spray the person with cool water from a garden hose; sponge the person with cool water; or if the humidity is low, wrap the person in a cool, wet sheet and fan him or her vigorously.
Monitor body temperature, and continue cooling efforts until the
body temperature drops to 101-102°F.
If emergency medical personnel are delayed, call the hospital
emergency room for further instructions.
Do not give the person fluids to drink.
Get medical assistance as soon as possible.
Sometimes a person's muscles will begin to twitch uncontrollably as a result of heat stroke. If this happens, keep the person from injuring himself, but do not place any object in the mouth and do not give fluids. If there is vomiting, make sure the airway remains open by turning the person on his or her side.