The UConn Husky mascot has found its way onto billboards advertising alcohol, and university officials say they're sending the wrong message.
Billboards for Coors have cropped up along Interstates 84 and 91 in the Hartford area, featuring a large photo of a Coors Light bottle alongside the Husky mascot printed on the image of a football. "Huskies Love the Cold" is written across the advertisement in large letters.
Some of the advertisements have already been removed, and others are on their way out, according to university officials.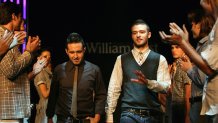 UConn Athletic Director Warde Manuel said in a statement Wednesday that IMG Sports, which holds the marketing rights for UConn athletics, has a sponsorship contract with Coors that allows the company to use UConn trademarks.
Manuel said UConn has not received direct funding from Coors and does not have a direct partnership with the brewing company.
[NATL] The NCAA's Most Horrifying Mascots
"Over the past week, the University has been working with IMG to facilitate the removal of the Coors billboards. As of today, the advertisement has been taken off the electronic billboards where it appeared, and IMG is working to remove the ad from static billboards," Manuel said in the statement.
"UConn does not condone irresponsible drinking and will continue to work within the University community and with external partners to promote safe and healthy living habits," he added.
[CT] UConn's Road to the Big Win
University President Susan Herbst and UConn Board of Trustees Chairman Lawrence McHugh echoed Manuel's words in a joint statement Wednesday.
"Whatever the intention was, we believe that this billboard sent the wrong message and are pleased that it has been taken down," they said. "Adults are free to drink responsibly, but UConn cannot appear to endorse drinking among our students, particularly if they are under 21."
Former state GOP chairman Chris Healy first brought up the controversy in his blog Wednesday.