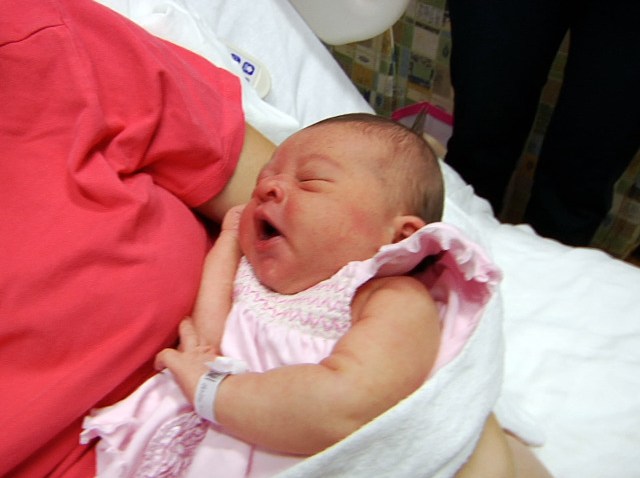 Sleeping in her mother's arms, newborn Nicole Zyjeski doesn't have a care in the world. But on Monday, she gave her parents a bit of a scare.
She didn't want to wait for her parents to make it to the hospital. Instead, Nicole wanted to make her debut on Route 44 in West Hartford.
"We got close to about where he finally called 911 when I said, 'My water broke,' and at that point it was too late, I could feel the baby's head coming, and there was no way we were going to make it," said Karen Zyjeski, Nicole's mother.
Instead they pulled over to the side of the road and flagged down the West Hartford police officer who was called into help. It was the first time Officer Tom Lazure would deliver a baby.

"You've got to concentrate on the baby. I had tunnel vision for the baby, talked to the mom. Dad was kind of pacing back and forth, he was extremely nervous," Lazure said.

Within minutes of Officer Lazure arriving, little Nicole entered the world.
"The next thing you know ... he couldn't have been there more than 30 seconds. And I was just following the dispatcher, getting clothes out of my bag to wrap around the baby, making sure the baby's breathing, tying off the umbilical cord, which I did with my shoelace," Michael Zyjeski, Nicole's father, said.

Both the Zyjeski family and Officer Lazure now have an amazing story about a delivery they'll never forget.
"I still can't believe it happened that fast. But everybody kept saying to me, every kid is different," Karen Zyjeski said.

"The baby cried and it was just the most amazing feeling I've had in my entire life," said Lazure.