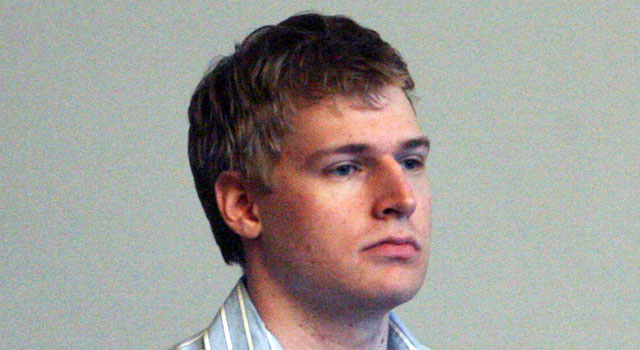 A former medical student accused of killing a masseuse he met through Craigslist apparently killed himself inside a Boston jail, where he was awaiting trial, authorities said Sunday.
Philip Markoff's body was found at 10:16 a.m. on Sunday morning in the Nashua Street Jail after an apparent suicide, said Ed Geary, a spokesman for the Suffolk County sheriff's office.
Geary said no additional information was immediately available, and an investigation had begun.
Saturday would have been Markoff's first wedding anniversary, but his nuptials were canceled after his arrest.
Markoff, 24, a former Boston University student, was arrested April 20, 2009 on Interstate 95 while driving with his fiancee to Foxwoods Resort Casino in Connecticut.
He pleaded not guilty in fatal shooting of Julissa Brisman, of New York City, and the armed robbery of a Las Vegas woman. Both rimes happened at Boston hotels within the span of four days in April 2009. Rhode Island prosecutors also accused him of attacking a stripper during the same week.
His trial in the Massachusetts cases was expected in March.
The Boston Herald reports that Markoff suffocated and was found with a clear plastic shopping bag from the jail's canteen and he also stabbed himself with a pen.
Markoff's lawyer, John Salsberg, said he was shocked and saddened about his client's death. He would not comment further.
Markoff had met the women through advertisements for erotic services posted on Craigslist, a classified advertising Web site, prosecutors said.
Prosecutors said the Boston Police Department crime lab identified two blood stains taken from swabs on a handgun that was seized during a search of Markoff's apartment in Quincy, Mass. Prosecutors alleged that Markoff used the weapon to bludgeon Brisman before the victim was shot three times at close range.
Investigators also found several other items in the apartment, including four pairs of women's underwear wrapped inside of socks and hidden in a box spring.
Markoff's fiancee, Megan McAllister, had ended the relationship with Markoff after visiting him in jail, and their wedding, scheduled for Aug. 14, 2009, was subsequently canceled.
"Markoff was alone in his cell and all evidence collected thus far indicates that he took his own life. Nonetheless, as with all such cases, a comprehensive investigation will be conducted to determine the facts and circumstances surrounding his death," Boston Police Commissioner Edward Davis and Suffolk County District Attorney Daniel Conley said in a joint statement.
Copyright AP - Associated Press