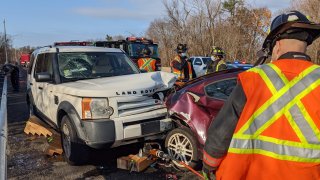 One person has severe injuries after firefighters said he or she was struck while outside of a vehicle in the breakdown lane of Interstate 95 in Westport on Saturday morning.
Emergency crews were called to a crash on I-95 northbound between exits 18 and 19 around 9 a.m.
While en route, firefighters said they learned that there was a report of a person trapped underneath one of the vehicles.
When crews arrived, they said they found a two-vehicle crash with one person requiring extrication from under one of the vehicles.
Firefighters said they used hydraulic rescue tools to lift the vehicle enough to remove the injured person.
He or she was transported to the hospital to be treated for severe injuries, fire officials said. An additional person was also treated and transported to the hospital, they added.
Investigators said they believe the person who was trapped was outside of his or her vehicle in the breakdown lane of the highway to check on a mechanical issue when his or her vehicle was struck.
The accident remains under investigation.