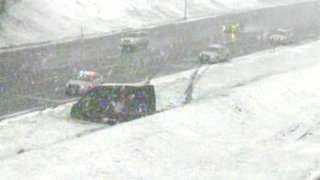 Snow has been falling in parts of Connecticut and there are some issues on the roads on Friday morning.
Putnam
CT Travel Smart reports that Route 12 in Putnam is closed at Hurry Hill Road after a box truck hit a pole.
Tolland
The Tolland Fire Department is responding to multiple accidents on Interstate 84 East and West, according to Tolland Alert.
Tolland Alert Tweeted that crews responded to the second crash of the morning on I-84 and it was on the westbound side of the highway in the area of exit 68.
Union
CT Travel Smart reports that Route 171 in Vernon is closed at Route 190 after a truck crash.
Vernon
CT Travel Smart is reporting a crash on I-84 East between exits 64 and 66 in Vernon.